2017 NSW Wine Awards announced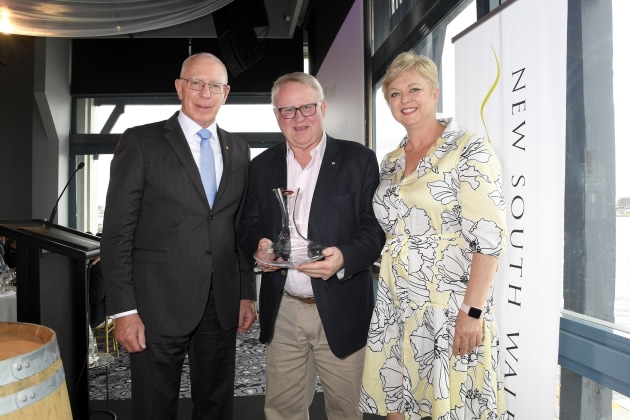 The 2017 Pier One Sydney Harbour NSW Wine Awards were unveiled on Friday October 28 with a celebration of the state's top wine and winemakers.
Held at Pier One Sydney Harbour, NSW Wine Awards identified and recognised wineries from all over New South Wales.
Wine expert and judge, Nick Spencer said, "Whilst there can only be one overall winner, there were many highlights in this year's show.
"NSW Riesling continues to impress, as did Chardonnay, with amazing fruit purity and reflections of the region. Semillon, both old and young, also shone.
"In the red wine categories, Shiraz was a standout but it was interesting to see that the Hunter did not dominate here, a true testament to the quality that is coming out of all of the state's wine regions at the moment."
Amongst the award-winners, Courabyra Wines 2013 805 (Tumbarumba) took out the title of Best Sparkling while De Bortoli Noble One 2015 Semillon (Riverina) claimed Best Sweet Wine.
The Lerida Estate 2016 Shiraz (Canberra District) claimed Best Red Wine of Show and the Tyrrell's 2005 Vat 1 Semillon (Hunter Valley) was awarded Best White Wine of Show.
Out of these four wines, it was Tyrrell's 2005 Vat 1 Semillon that ultimately won the top gong of the NSW Governor's Trophy for Best in Show.
Of Tyrrell's 2005 Vat 1 Semillon, chair of judges Dave Brookes said, "This is a wine whose provenance is without question, having now amassed some 30+ trophies in its wine show career.
"The wines history also runs deep within the NSW Wine Awards, as in 1997 (only the second year the Awards had been held) the 1992 Vat 1 Semillon also won the title of wine of the year.
"While it may not come as a surprise that an aged Hunter Valley Semillon took out the top award, it is without doubt one of the great wine styles of Australia with an enviable track record of both deliciousness and cellaring ability.
"To see these fledging wines bloom over time in the cellar into complex, benchmark wines that sing true of their variety and the land from which they hail is one of life's great pleasures.
"We are indeed lucky to have one of the world's benchmark wine styles right on our doorstep in the Hunter Valley."
Full List of 2017 NSW Wine award-winners:
Mudgee Wines Trophy for Best Young Riesling ~ Robert Stein 2017 Dry Riesling (Mudgee)
Pier One Trophy for Best Young Sauvignon Blanc ~ Highland Heritage Estate 2016 Fume Blanc (Orange)
NSW DPI Trophy for Best Young Semillon ~ Bimbadgen 2017 Signature Palmers Lane Semillon (Hunter)
Longfellows Midland Trophy for Best Young Chardonnay ~ Brokenwood 2016 Forest Edge Chardonnay (Orange)
Pier One Trophy for Best Young White Other Varieties ~ Hungerford Hill 2016 Pinot Gris (Tumbarumba)
National Wine & Grape Industry Centre Trophy for Best Mature Dry White ~ Tyrrell's 2005 Vat 1 Semillon (Hunter)
Pier One Trophy for Best Light Red ~ De Iuliis Wines 2017 Special Release Grenache (Hilltops)
Orora Stelvin Trophy for Best Young Shiraz ~ Lerida Estate 2016 Shiraz (Canberra)
Riedel Trophy for Best Young Cabernet Sauvignon ~ Tamburlaine 2016 Reserve Cabernet Sauvignon (Orange)
MultiColor Trophy for Best Young Other Red Varieties ~ Briar Ridge 2016 Limited Release Tempranillo (Hilltops/Hunter)
Nexia Australia Trophy for Best Young Red Blend ~ Shaw Vineyard Estate 2015 Cabernet Sauvignon/Shiraz (Canberra)
Australia Post Trophy for Best Mature Red ~ Montoro wines 2013 Pepper Shiraz (Orange)
NSW DPI Award for Best Organic Wine ~ Tamburlaine 2016 Orange Reserve Cabernet Sauvignon (Orange)
CiSRA Canon Trophy for Best Sparkling Wine ~ Courabyra Wines 2013 805 Sparkling (Tumbarumba)
Pier One Trophy for Best Sweet Wine ~ De Bortoli Wines Noble One 2015 Semillon (Riverina)
Pier One Trophy Best Dry White of Show ~ Tyrrell's 2005 Vat 1 Semillon (Hunter Valley)
CCL Labels Trophy for Best Dry Red of Show ~ Lerida Estate 2016 Shiraz (Canberra)
NSW Governor's Trophy for Best in Show ~ Tyrrell's 2005 Vat 1 Semillon (Hunter Valley)