2017 Fonterra Proud to be a Chef finalists revealed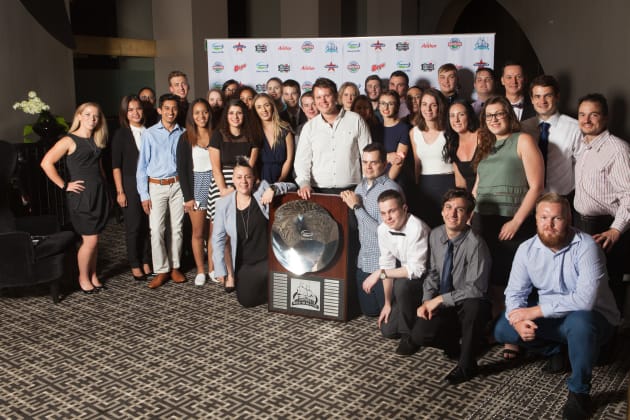 Fonterra has announced the finalists for the 18th annual Proud to be a Chef program set to take place in February 2017.
34 apprentice chefs from around the country will be flown to Melbourne to participate in the four day mentoring program which will include field tours, up skilling workshops, intimate dining at some of Melbourne's most prominent restaurants and educational mentoring classes with industry leaders such as head chef Buddha Lo of Matteo's restaurant.
Applicants were evaluated based on their demonstrated culinary passion, aspirations, goals and commitment to becoming a chef, along with a review of an original recipe submission.
The talented finalists selected for the 2017 Fonterra Proud to be a Chef program include:
• Tara Bennett - Sensations en Ardross, WA
• Harrison Caruana - RACV City Club, VIC
• Jhye Cockram - Lake House Daylesford, VIC
• Kade Cohen - Farmhouse Kings Cross, NSW
• Haiden Cox - Maryborough RSL, QLD
• Kenya Cramer - Jupiters Casino & Hotel, QLD
• Melanie Cranmer - Loxton Communi ty Hotel Motel, SA
• Beth Dobbins - Oatlands Golf Club, NSW
• Stephen Fawcett - Matteo's, VIC
• Giles Gabutina - Tetsuya's Restaurant , NSW
• Jennifer Hardke Wilson - Novotel Surfers Paradise, QLD
• Reece Hiki - Forbes Services Memorial Club, NSW
• Anthony Hotker - Ascot Quays Hotel, WA
• Laura Hughes – Rydges Campbell town, NSW
• Nat thawut Khunsombat - Adelaide Oval, SA
• Lara Kirby - Sandalford Estate Winery, WA
• Kokwei Lee - Crown Perth, WA
• Samantha Levett - The Star Casino, NSW
• Shaynesha Page - The Vue Grand Hotel and Restaurant, VIC
• Katie Sayer - Cherubs 3, NSW
• Greg Schimleck - Crown Melbourne, VIC
• Jason Scott - Co-Op Dining East Perth, WA
• Alana Shannon - Appellation, SA
• Dylan Smith - Rickys River Bar and Restaurant, QLD
• Brianne Stanley - Boardwalk Bendigo, VIC
• Alec Stemmler - Shangri-la Cairns, FNQ
• Ha Chul Sung - Moomoo Wine Bar & Grill, QLD
• Kimberly Tang - Crown Melbourne, VIC
• Joseph Taylor - Treasury Brisbane, QLD
• Naomi Townsend - Gateway Hotel, TAS
• Marcus Ulmer - Glass Brasserie, NSW
• Ben Von Stebut - Ormeggio at the Spit, NSW
• Haley Wilkinson - Hilton Adelaide, SA
• William Yarley - Warragul Country Club, VIC
Lo was one of the finalists of the 2010 Fonterra Proud to be a Chef program. He says, "I am really excited to meet and work with this year's selection of incredible finalists, and help each apprentice discover their potential through a program that helped kick start my own career."
At the end of the program, a standout apprentice will be crowned the 2017 Fonterra Proud to be a Chef winner, receiving an international culinary scholarship tailored to their personal interests and goals as a professional chef.
Fonterra's Director of Foodservice Jeff Dhu says, "We are committed to investing in this industry and this program is designed to help nurture the next generation of talented, passionate and hard-working Australian apprentice chefs."
For further information, please visit fonterraproudtobeachef.com.au.