UNCORKED: Truth in wine with Pepper Tree Wines' Gwyn Olsen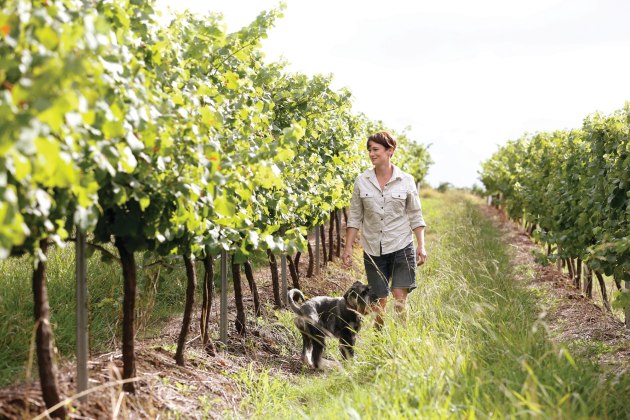 Head winemaker of the Hunter Valley's Pepper Tree Wines, Gwyn Olsen, shares her passion for creating wines with a strong sense of place.
What drew you to a career in wine?
A love of science and action, really. I enjoyed studying science however was never really cut out for a career as a scientist. And looking into my options the wine industry – with its combination of physical action, travel options and applied science – really attracted me. After finishing my Bachelor of Science in biochemistry and Post Grad Dip in oenology, I started cleaning tanks as a cellar hand in my first winery job.
How would you describe your approach to winemaking?
Focused. I try to focus on the quality of fruit from the vineyard and make delicious wines which speak of time and place.
Who has had a significant influence on you as a winemaker, and why?
Corey Ryan (now Sons of Eden) through both hiring me as the assistant winemaker at Villa Maria Estate and acting as a mentor through my progression to senior winemaker and head winemaker. He taught me very early on to trust my palate and to always be searching for a new or better way of doing things.
What ideas or techniques have you introduced at Pepper Tree Wines?
We have recently started focusing on the vineyard and selecting the individual rows or blocks to help produce the best wines. In 2016, we hand-thinned and then hand-picked our top Wrattonbully shiraz block which has resulted in the best shiraz to date being produced off that vineyard.
We also introduced a single vineyard riesling from Orange, NSW. We continue to play with skin contact in whites and alternate varieties, and once we are happy with the styles there will be some more exciting things to come.
Having won Rising Star of the Year 2015 (Hunter Valley Legends Awards) and Young Winemaker Medal 2014 (Gourmet Traveller WINE), what do awards mean to you?
They are incredibly important to me. I received the Young Winemaker award just as I was starting out on my first, solo-in-charge, winemaking job. It gave me great confidence in my own ability and to trust my gut.
What are your favourite wine and food pairings?
Chardonnay and cheese toasties, cabernet and dry aged wagyu steak, Champagne and hot chips, and rosé and rice paper rolls.
What big trends do you predict for the Australian wine industry in 2018?
If I knew that, I would be a millionaire! Grenache and cabernet.
In your opinion, how has the palate of the average Australian drinker changed or evolved over your career?
It has evolved immensely and continues to evolve. I think the Australian drinker has moved away from sweeter, fruity styles of wines to those that have more structure, more texture and are more savoury.