The Hughenden Boutique Hotel relaunches with new, all-day cafe
 
Liza Jesus, hotel manager, The Hughenden Boutique Hotel.
On the reopening of The Hughenden Boutique Hotel in the Sydney suburb of Woollahra, hotel manager Liza Jesus discusses renovations, guests and hotel dining.


How long has The Hughenden Boutique Hotel been running?
The Hughenden was built in the 1870s by Dr Frederick Harrison Quaife, the son of a dissenting minister, who sailed over from in England in 1839. In years following the Quaife's residence it became a Masonic hall, a guest house, a nurses' home, a dance hall and the Riviere Ladies College.
By 1990, The Hughenden had been half-hidden and forgotten behind a concrete fence, until it was rediscovered and turned into a hotel.The Hughenden has strived to offer an elegant alternative to chain hotels, providing an intimate environment for their guests making them feel like they are staying in a grand family manor.

What was the reason for the recent renovation?
With ownership changing in February of 2017, we wanted to refresh the iconic Hughenden Boutique Hotel and offer guests an upgraded experience. The renovation touches every aspect of the hotel, and whilst it displays the new owner's sense of style, it maintains its renowned warmth and charm.

What is the philosophy behind the hotel?
The Hughenden continues to offer an elegant alternative to chain hotels, providing an intimate environment for their guests making them feel like they are staying in a grand family manor. The dedicated team strives to provide service with passion and attention to every detail to make guests feel that this is their home away from home.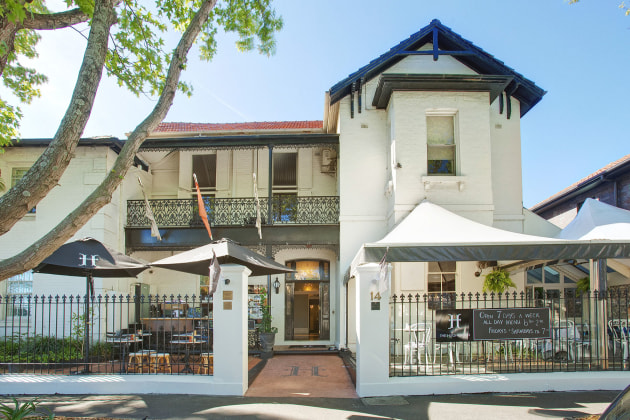 What does the venue offer guests?
The Hughenden offers 32 suites and rooms, six of those being pet friendly. In addition, multiple spaces to relax and unwind with a cup of coffee or glass of wine. Our café offers an all-day menu from 6:30am to 2:30pm, 7 days a week, and bar serves a tantalising selection of beverages until 11pm. The Hughenden welcomes guests to enjoy a glass to relax in our dining room or terrace overlooking the charming Queen Street. We also have a rooftop sundeck hidden in the top corner of the hotel, which is a quiet and secluded space that will almost make you forget you are in the heart of Sydney.


What is the best thing about being the hotel manager?
I believe that you only do something well if you do it with all your heart, and I truly love what I do. The thing I most like about working in this role is that your days are never the same and I am interacting with people all the time.


How do you approach managing both the hotel and cafe?
Managing a hotel requires multi-tasking skills and flexibility. We are a small hotel with a fantastic team. With appropriate guidance, motivation and open communication, I have confidence in the management of both the hotel and cafe to function synergistically and successfully.
What dishes are on the menu?
Our new menu focuses on fresh produce to provide mouth-watering yet healthy dishes. We have introduced a range of wholesome salads, chicken baguette and homemade toasted granola. Of course, we still offer the classics such as eggs Benedict and The Hughenden burger.

What's your favourite and why?
Bacon and Pumpkin Maple Tart! The combination of bacon and maple just melts in your mouth. What is there not to love about crispy, flakey pastry and mouth-watering bacon?


Over your career, how have you seen diners attitudes towards hotel dining change and evolve?
The Australian food culture is driven by innovation and fresh produce in an informal yet unique and enjoyable atmosphere. Today, Sydney diners are spoilt for choice with an overwhelming amount of restaurants offering top quality food and dining experiences. Restaurants rely on passion, creativity and authenticity to survive in Sydney's sophisticated and competitive restaurant culture.

For further information, please visit thehughenden.com.au.