The high achievers of Sydney's high end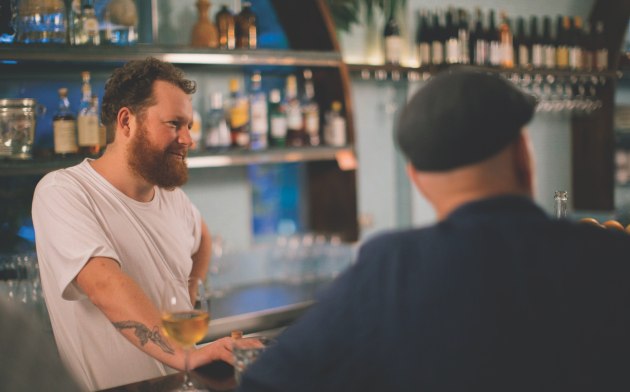 Nicholas Jordan caught up with six of Sydney's best young waiters and restaurant managers to talk the past, present and future of Australian fine-dining service.
Remember the '00s, when everyone was reading Harry Potter, watching Lord of the Rings and listening to 50 Cent? Mainstream Australian fine dining was both admired and laughed at for serving tiny morsels on huge white plates.
Back then, that's what fine dining was – several painstakingly intricate and compact courses, laid down on white tablecloths by a waiter whose arm was adorned with a freshly starched napkin. Now, everybody seems to have a different idea of what fine dining is, what it's going to be and whether tablecloths are involved. We asked the up-and-coming class of Sydney's front of house where they think our fine-dining industry is at, and where it's heading.
George Papaioannou, 22, Sixpenny
George Papaioannou is the restaurant manager at Sixpenny, one of Sydney's more traditional fine-dining establishments. Not traditional enough to have linen tablecloths and fish knives, but Papaioannou still greets guests as sir or madame.
What's changing is how that's done, he says. "It's executed in a more approachable manner." That doesn't mean fine-dining service is becoming less professional (Papaioannou goes as far as checking which hand a diner eats with, and makes sure they're served accordingly), just less formal. It should be like being invited into a friend's home, but you're sitting in the separate dining room no one is normally allowed in, he says. "It's just that little bit more special."
As a waiter there are many opportunities, but pushing into management can be difficult. "There are only so many management positions available in Sydney. However, no one should be turned down just because of their age. Dan Puskas [chef-owner of Sixpenny] asked me to be his restaurant manager for a reason, it wasn't because of my experience, but my passion for the industry and willingness to learn and grow with the business."
Sally Rainbows, 30, Don Peppino's
Sally Rainbows says fine dining sucks. Yeah, he loves to eat good food and he wants good service wherever he goes, but the term itself is problematic. It gives us the idea that one kind of restaurant is better than the others, he says. "I think it's important for the industry to make every quality level more accessible and more engageable to everyone." 
In fact he doubts anyone will open a "full-fledged table cloth style" fine diner in Sydney again. 
Few would call Don Peppino's a fine diner, but Rainbows doesn't care what it's called. What he wants is for their service style – where waiters have a personality and there's less of a hierarchy of customers and waiters – and their quality to be as valued as a restaurant with a degustation and a wine pairing. 
And, he says, his job should be the same, regardless of the venue's level of dining. "Have a convo, have a personality, look after your guest and actually give a fuck."
Nadine Stegmeier, 33, Quay
In March last year, Quay closed for a major renovation – not just scrapping their infamously gaudy purple carpets, but overhauling the entire operation. Nadine Stegmeier is the general manager of Quay 2.0. She says one of the crucial updates was turning Quay's service away from a standardised almost servant-like style to focus on personalisation. "It's about reading the guest and individualising the service accordingly to how they want to experience Quay." Whether that's making overwhelmed first-timers feel comfortable, or lathering on the luxury for those who feel entitled to a good pamper. 
The challenge for Stegmeier and her staff now is how the audience has changed. "Guests have more information than ever, they require a higher level of sophistication and effort to surprise and delight them. Guests do not want to be educated or taught how to eat their meals or what to wear. They want to be sent on a journey of discovery."
Stegmeier says it's increasingly difficult to find staff up to the task, and that the important step for any fine diner is upping their training game. "We need to invest a lot of time and training into the younger generation, and provide staff with the opportunity to grow."
Vanessa Kim, 27, Banksii
In the last five years Vanessa Kim has had to adapt. The ex-Sokyo and current Banksii waiter is now spending a lot more time talking to customers about provenance. "With the emergence of food documentaries and the internet, people are more aware than ever of the food industry, and have forced restaurants to be wary of their produce and if it's sustainable," she says. "I am definitely more informed of our produce, how they were raised and where they come from. I also know a lot more about the agricultural and farming side."
She doesn't call Banksii a fine diner, but it's part of a movement (along with fine-dining leaders Quay, Momofuku Seiobo and Sepia, she says) that has largely discarded French cuisine and formality for a more multicultural understanding of dining, and a more casual service style. "Premium service these days is having a good rapport with customers and being knowledgeable of the product you are selling."
That also makes it a lot easier to forge a career in the front end. "If they are passionate about the industry and are eager to put in the effort, it is easier now to get into this side of fine dining."
Rachael Trewin, 28, A1 Canteen
While a lot of the front-of-house guns foodservice reached out to were eager to chat about how the industry has changed in recent years, A1 Canteen manager Rachael Trewin gave us an insight into why. "The biggest change has been the way those involved in the restaurants view themselves and the experience they're providing. I've found a lot more restaurants have tried to stop focusing on pleasing everyone and actually invested their energy into what they are really passionate about," she says.
"This can ruffle the feathers of traditional diners, who expect restaurants of a certain standard or reputation to cater to their every need, [but] on the flipside there is a younger generation of diners who are looking for high-grade food experiences without the fuss."
And that's why restaurants like A1 Canteen or Automata (her previous workplace, and also owned by chef Clayton Wells) have become so popular.
She guesses the next step for both traditional and casual fine diners will be to mix up their offerings and to bring in people of different budgets and time restrictions – generally becoming more accessible in style, but no different in ambition or culinary technique.
Raurri Fagan, 33, Firedoor
Raurri Fagan is honest. He says he has no idea what the future of fine dining looks like. He does, however, know what he wants – and that's for everyone in the industry to seriously engage with food ethics and sustainability. "Our relationship with food is dire. Restaurants that are ethical and sustainable with front-of-house professionals articulating that story is the future I would like to see. We all have a responsibility."
He's still positive about the future of the industry, and the security of good front-of-house jobs. "In a world where you don't need someone to scan your groceries, check in your luggage or book a car, the very best at customer service will be the last ones standing."
This article was first published in foodservice's April 2019 issue. Read the digital magazine here.