ON TREND: Good Golly, Is That A Trolley?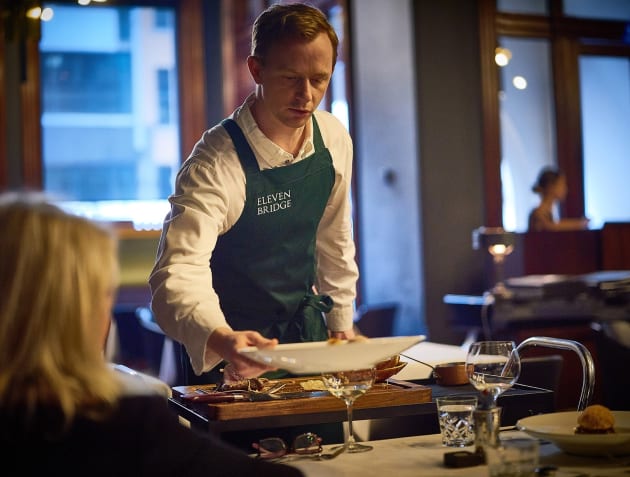 Jill Dupleix begs the question about tableside service.
If you have a few years under your belt, you'll remember the thrill of a bow-tied maitre d' pushing a trolley to your table and launching into a theatrical production of Caesar salad or crêpes Suzette. Then dining went casual and skilled gueridon (tableside) service almost disappeared, along with the accompanying bow-ties.
Now the trolley is back, in diverse and dandy ways. Witness the elegant plated stainless steel bar carts at George Calombaris' Press Club in Melbourne, used to deliver everything from the amuse-gueules to the post-dinner espresso martinis. "It's a great way to approach the table," says head sommelier Fabien Moalic, who sourced the trolleys from The Cool Hunter in Prahran. "It also enables us to serve our pre-batch cocktails with flavoured ice in less than 30 seconds."
Eleven Bridge, Neil Perry's re-working of the 27 year-old Rockpool, has a grand total of nine trolleys working over two floors. "We have almost more trolleys than tables," laughs Perry. "I really wanted to get back to what service was and is all about, and that is clearly engagement and interaction." The trolleys dispense show-stopping dishes such as abalone cooked in brown butter, and whole partridge steamed in a bread crust. "Having total trust in your floor team to know they can deliver is to me what makes the restaurant great," says Perry.
At the wine-focussed Lot.1 in Sydney, a total of twelve Italian trolleys are devoted specifically to tableside decanting. With close to $400,000 worth of wine racked up in its basement wine rooms – several listed at over $4000 - manager Michael Tama sees the $1000 spend per trolley as another way of showcasing the excellence of the cellar. "We don't like serving wine over people's shoulders," he says. "Tableside service showcases the investment our diners have made in their chosen wine. The wow factor is enormous."
At the rollicking deep-southern Harpoon Harry Dining Room in Surry Hills, the vintage cocktail trolley trundles from table to table laden with cut crystal glasses, ice, and Kentucky's finest Bourbons. "We've sold more Pappy Van Winkle Family Reserve off the trolley at $30 a pop, than off the list," says chef Morgan McGlone. "People want to see it poured; it's all about the process."
With Dinner By Heston, Bar Liberty, Syracuse and The Astor in Melbourne, and The Roosevelt, Est, J&M Whisky Bar and Icebergs Dining Room & Bar in Sydney all wheeling out the trolleys (and an honourable mention to Trolley'd, Australia's most charming mobile trolley pop-up bar), trolleys are definitely on a roll.
Jill Dupleix is a food writer, editor, cookbook author, restaurant critic and co-director of Australia's Top Restaurants.