Inside the Grounds' colossal coffee operation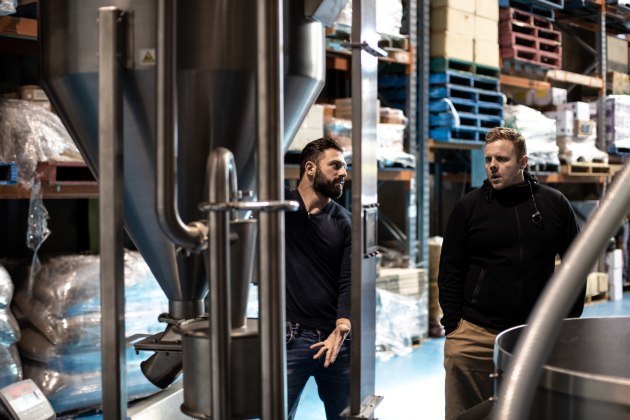 The Grounds of Alexandria, undeniably Sydney's most famous cafe, conjures images of leafy archways, beautified brunches and, of course, queues. But owner Ramzey Choker and head roaster Nick Ferguson also want great coffee to come to mind. Since it opened in 2012, coffee, both in house and for wholesale, has been a major part of the business. This is only going to grow when the Grounds Roastery, the team's third venue, opens in Everleigh later this year. Aleksandra Bliszczyk spoke to Ferguson about his coffee operation, what customers are drinking, and how the pressure to keep the cost of a cup of coffee low in Sydney affects farmers and roasters alike.
Aleksandra Bliszczyk: What's your coffee background?
Nick Ferguson: My first job was washing dishes in a cafe called Swiss Deli when I was 14. The owners gave me my first espresso and trained me how to make coffee. From that moment on, I have been obsessed.
After living abroad in my teens, I arrived back to Australia and started working in hospitality. I loved the coffee culture in Sydney and was fascinated by coffee craftsmanship. I started learning as much as I could about coffee, and soon met Jack Hanna (master barista now at the Grounds, and former National Latte Art champion). When Jack told me about the project in Alexandria with Ramzey, I knew I had to be a part of it. I started as the head barista at the grand opening in April 2012.
Since then, I've been able to hone my skills, not only as a barista but also a roaster. Now as the head roaster, I am roasting and sourcing coffee and managing the roastery. Working with such amazing people has given me the flexibility and resources I've needed to push myself to be the best I can be.
How many kilos of coffee do the Grounds venues go through each week? How has that increased since 2012?
The Grounds venues (in Alexandria and the CBD) go through between 200 and 300 kilos per week, depending on the time of year. This is quite similar to our first year, as we quickly increased volumes as the word spread about our roasting efforts.
In terms of wholesale, we are slowly increasing volume as we find the right cafe partners. Currently we are roasting 1.5 tonnes a week for wholesale.
The new venue comes with a bigger roasting facility, brew bars and you're even getting your own coffee "lab". Tell me about what you'll be able to do that you couldn't before.
Coffee has always been a big part of the Grounds. We've always been heavily focused on sourcing, roasting and serving the best coffees we can. This time it's going to be even more so, we're taking it to another level. It's really exciting. I can tell you it will be a state-of-the-art facility offering us amazing flexibility to do way more in terms of developing blends and roasting profiles, and increasing coffee production thanks to our new specialised green bean storage facility.
As for the customers, the new space will have more specials and educational experiences. And the fit out will certainly be different, though of course it will still have plenty of greenery.
Coffee in Australia was roasted very dark for decades, and lighter roasts and filter methods became wildly popular in recent years. But some venues now are going back to the robust, rich flavours of Italian espresso and looking for darker beans. What's in demand at the Grounds?
Coffee certainly keeps evolving, however there is evolution, and then there are trends. It's so important to keep learning and pushing. In terms of roasting, there have been incredible advances in technology and tonnes of resources now that simply weren't around even a decade ago.
Many roasting machines have been the same design for nearly a century, but finally that's changing. Cropster roasting software would be one example that has helped with constancy. At origin too many things have changed; new processing methods and agronomy have helped with yields, quality, and disease resistant varietals.
For us, the majority of coffee we serve is milk-based, composing of an espresso blend. Our roasting style is greatly influenced by this way of enjoying coffee, though we can apply different roasting styles, light or dark, to suit different coffee and brew methods.
Customers are becoming more interested about where the coffees are coming from too, the flavours, attributes and sources. We have also noticed the rise in single origin and estate coffees served as both espressos and filters.
For the consumer, coffee is notoriously immune to inflation. Prices of food and alcohol rise by noticeable percentages each year, but the price of a cup of coffee has barely gone up a dollar in the last 10. What strain does this place on Australia's coffee industry? Has the growing price of coffee production surpassed that of the beverage itself?
I'm glad you asked. For a long time, people thought that coffee in Australia (Sydney in particular) should be $3 to $3.50 and refused to pay more. The reality is that with inflation everything has gone up and this puts roasters and cafes in a difficult position. The cost of production, land value, wages, utilities and so on have increased, and there is a squeeze to get the best coffee for cheap, the flow-on effect of which is that the cafe struggles and growers are getting the rough end.
I think if you want a quality coffee you have to be prepared to pay for it, just like anything else. Clean, fresh crop coffees cost money to produce. The meticulous care that goes into the picking, processing and sorting cost money.
As always, you get what you pay for. I'm not saying that you need to spend $10 on a cup of coffee, but when you see a $1 or $2 coffee, alarm bells should ring. If coffee beans are purchased for a price of less than $2USD per pound, not only is it going to be very average, but in most cases it's below the cost of production. This means it's unsustainable for the farmers all around the world.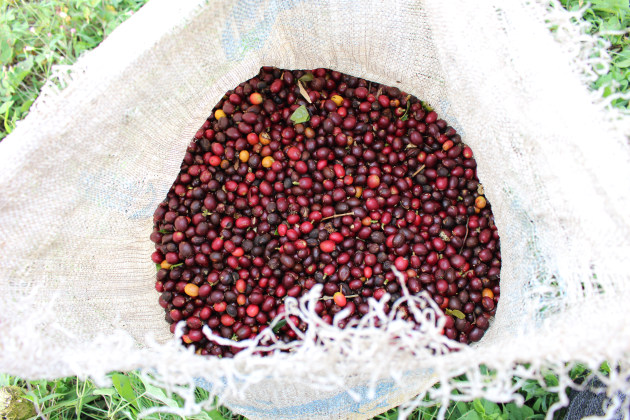 This article was first published in foodservice's June 2019 issue. Read the digital magazine here.