Winners of 2018 Dish of the Year revealed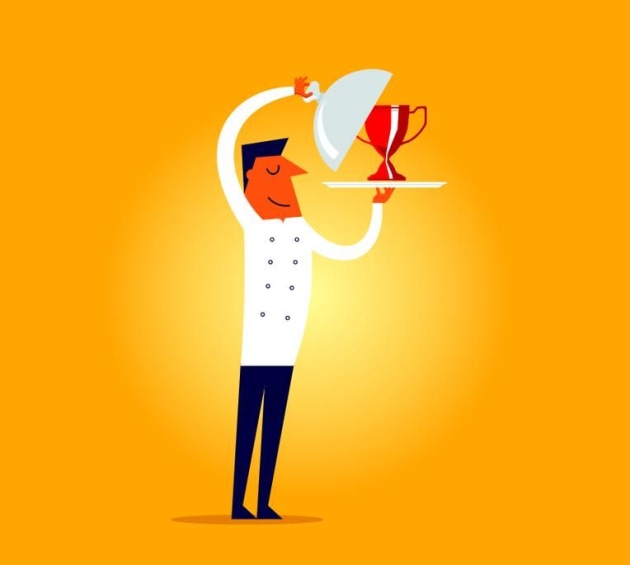 Dish of the Year is here! The annual competition dedicated to Australia's casual dining sector returns for its sixth year with five, fabulous winners over five, fantastic categories.
With great numbers of entrants to sift through, our 15 finalists were narrowed down to cafes, restaurants, grab'n'go eateries, burger joints, fish and chip takeaways, bakeries, and clubs in Victoria, New South Wales, Queensland and Western Australia.
Competition was tough. Quality, creativity, attention to detail and value were all on the menu. And while the past two years have seen Victoria dominate the competition, 2018 is New South Wales' time to shine with four of the five awards going to dishes from across the state.
Thank you to our partners Tip Top, Hellmann's, Fonterra, Speedibake, and Birch & Waite for helping us put together such a special initiative.

Without further delay, it's time to reveal who won:
BEST BURGER
BEST FISH & CHIPS
BEST PIZZA
BEST BREAKFAST ROLL
BEST SALAD
Congratulations to all the winners of foodservice's 2018 Dish of the Year...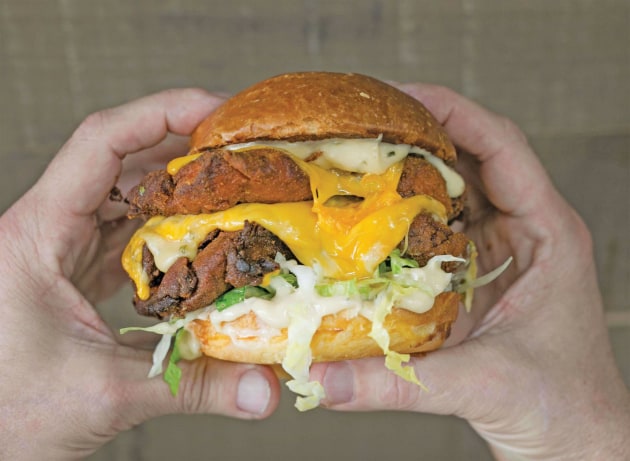 BEST BURGER
SPONSORED BY TIP TOP

SKIPPING GIRL TAKEAWAY'S FOWL PLAY
1 brioche bun
2 x 120 g 48-hour buttermilk-brined chicken thigh fillets, coated with our secret 9 spice rice flour rub
2 American-style cheddar cheese slices
House-made aioli (roasted garlic, confit garlic oil, mustard, lemon juice, fresh herbs, vinegar)
Iceberg lettuce, shredded
Carrot, grated
White onion, thinly sliced
Polski gherkins, thinly sliced
METHOD
Deep fry the chicken fillets for 4 minutes to seal in the juices and flavour, or until the internal temperature registers a minimum 75°C. Place 1 slice of American cheese on each piece of chicken and allow to rest for 2 minutes while the cheese melts.
Cut the brioche bun in half, and grill or toast ensuring that the bread heats right through. Coat the base of the bun with aioli and add the lettuce and carrot. Pile the chicken fillets and melted cheese on top of each other and add to the burger stack. Coat the top half of the bun with aioli, add the onion and gherkins then place it on top of the stack. Tuck in immediately.
SKIPPING GIRL TAKEAWAY

70 William Street, Abbotsford VIC 3067

skippinggirltakeaway.com.au
THE FINALISTS
Meet Patty's Patty Signature (VIC)
Basement Brewhouse's Mighty Brew Beast (NSW)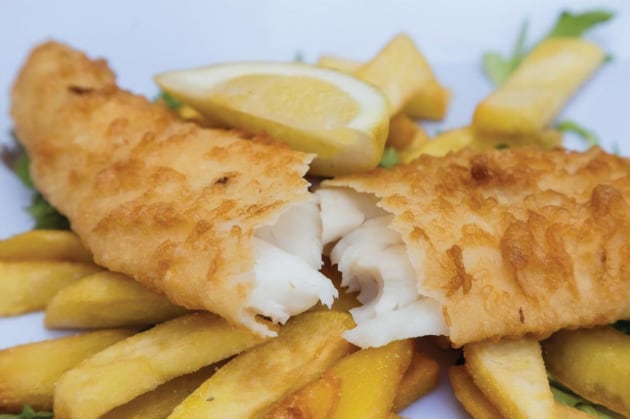 BEST FISH & CHIPS
SPONSORED BY HELLMANN'S
TERRIGAL BEACH FISH & CHIPS CO'S BATTERED BLUE GRENADIER AND CHIPS
Serves 1
1 fillet of blue grenadier
1 cup plain flour
1 cup self-raising flour
1 tsp baking powder
1 tbsp salt
1 tbsp ground pepper
1 tbsp curry powder
1 tbsp water
1 wedge of lemon
1 serving of hot chips
METHOD
Begin by making the batter by combining the plain flour, self raising flour, baking powder, salt, pepper, curry powder and water in a bowl. Add the fillet of blue grenadier and coat well. In a deep fryer, cook the fillet until the batter is crispy and golden in colour.
Serve immediately with a wedge of lemon and some hot chips.
TERRIGAL BEACH FISH & CHIPS CO

108 Terrigal Esplanade, Terrigal NSW 2260

fishandchipco.com.au
THE FINALISTS
Hide & Seek's grilled flake pack (VIC)
Mode Kitchen & Bar's flathead and crispy polenta chips (NSW)


BEST PIZZA
SPONSORED BY FONTERRA
AL TAGLIO'S COTTO E FUNGHI

PIZZA BASE

Makes 3 - 4 pizza bases
1 kg freshly stone-milled flour
700 ml water
4 g yeast
28 g salt
Tomato sauce
METHOD
To make the pizza base, combine 500 grams of flour, 500 millilitres of water and the yeast in a large bowl and allow to rest in the fridge for 20 hours. Add the rest of the flour, water and salt. Let the dough rest for 3 hours then shape into 250 gram dough balls. Cover and let rest in the fridge for another 18 hours.
Preheat the oven to 300°C and gently stretch the pizza dough into the desired shape on a baking tray. Place in the oven for 4 minutes.
MUSHROOM CREAM
2-3 tbsp extra virgin olive oil
200 g of mixed mushrooms (enoki, Swiss brown, shiitake, bottom mushroom), finely sliced
5 garlic cloves, finely sliced
Pinch of salt
Pinch of black pepper
Fresh parsley


METHOD
In a pan on medium heat, add the extra virgin olive oil before tossing the garlic for a few seconds. Then add the mushrooms and cook for 6-7 minutes, stirring constantly. Add the black pepper, salt, and fresh parsley and combine well before allowing to cool. Transfer to a food processor and blitz until creamy.
PIZZA TOPPING
Slices of roasted ham
Mozzarella
Japanese mayonnaise
Mushroom cream
Olive oil
Fresh parsley
Mixed salad
TO ASSEMBLE
On a just-baked pizza base, add mozzarella, ham, mayonnaise and mushroom cream. Cut into 8 slices and finish with a sprinkle of parsley, mixed salad in the middle, and a drizzle of olive oil.
AL TAGLIO
102-104 Albion Street, Surry Hills NSW 2010

altaglio.com.au
THE FINALISTS
Fatto Bar & Cantina's The Fatto (VIC)
Woodfire Pizzeria & Cucina's Friarelli (VIC)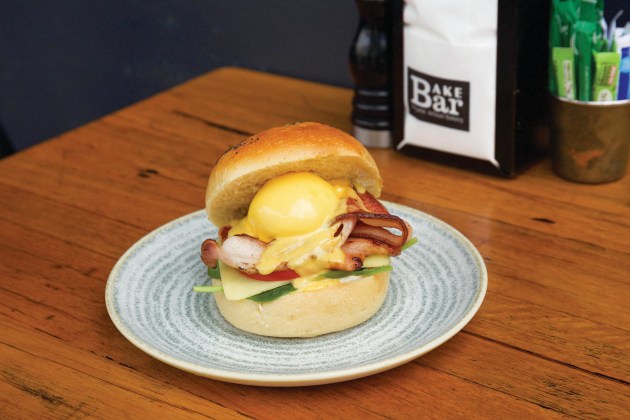 BEST BREAKFAST ROLL
SPONSORED BY SPEEDIBAKE
AIOLI
2 garlic cloves
1 tsp sea salt
2 egg yolks
1 cup extra virgin olive oil
1 tbsp lemon juice
2 tbsp wholegrain mustard
Water
METHOD
Combine the garlic cloves, sea salt and egg yolks in a food processor, and blitz until well-combined. Turn processer to low and slowly add the extra virgin olive oil until the mixture thickens. Transfer to a bowl. Stir in the lemon juice and wholegrain mustard, adding water to taste. Cover with cling wrap and refrigerate until required.
HOLLANDAISE SAUCE
2 egg yolks
2 tbsp water
175 g butter oil
2 tbsp lemon juice
METHOD
Quarter-fill a saucepan and bring to a boil over high heat. Reduce to a simmer and place a heatproof bowl over the saucepan. Add the egg yolks and water in the heatproof bowl and whisk until the yolks are thick, pale and have doubled in volume. Slowly add the butter oil, continuously whisking. Don't keep over the heat for longer than 10 minutes. Remove bowl from the pan, whisk in the lemon juice and salt and pepper to taste. Serve immediately.
BREAKFAST ROLL
Serves 1
1 fresh egg
1 tbsp vinegar
Handful of baby spinach
Your choice of cheese, sliced
Tomato
1 serving of bacon
Aioli
Hollandaise Sauce
Soft white organic sourdough roll
METHOD
Cook the bacon until crispy, cover with foil.
To poach the egg, set a 1/3 of a pot of water on the stove and bring to a simmer. Add the vinegar. Next crack the egg into a separate bowl or saucer. Stir the water in the pot to create a whirlpool and slowly tip the egg into the centre. Cook for 3-4 minutes, or until the white is set. Lift the egg out with a slotted spoon and drain it on kitchen paper.
TO ASSEMBLE
Cut a freshly baked, organic sourdough roll in half (such as Bake Bar's onion roll), spread aioli on the bun, and add two slices of cheese, sliced tomato, bacon, baby spinach, and a poached egg. Top with hollandaise sauce.
BAKE BAR

67 Frenchmans Road, Randwick NSW 2031
bakebar.com.au
THE FINALISTS
Shady Palms Cafe's Elvis breakfast muffin (QLD)
Saltie's hash and eggs wrap (NSW)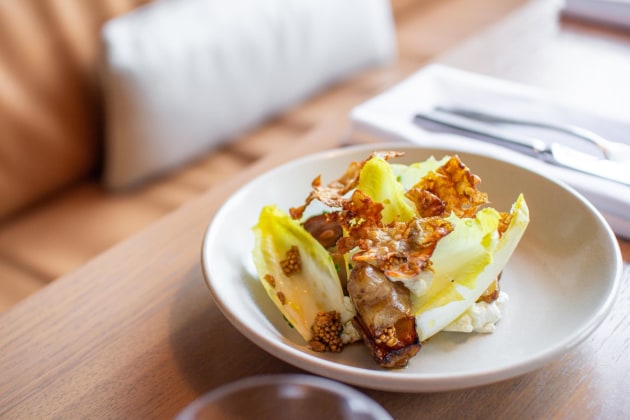 BEST SALAD
SPONSORED BY BIRCH & WAITE
Hotel Centennial's Jerusalem artichoke salad with Willowbrae goats cheese, sunflower seeds and wholegrain mustard
CHARDONNAY VINAIGRETTE
50 ml chard vinegar
150 ml Alto olive oil
2 g salt
METHOD
Slowly whisk the olive oil into the chard vinegar before adding the salt. Combine well.
ARTICHOKE LEAVES


200 g Jeruslum artichokes
Olive oil
Salt
METHOD
Season the artichokes with olive oil and salt. Steam at 130°C for 25 minutes. Allow to cool before breaking the artichokes into bite-sized pieces. Roast in the wood oven until golden.
Once cool to the touch, gently massage the artichoke until the leaves can be removed from the heart. Fry the leaves at 180°C until crispy and light golden brown in colour.
SUNFLOWER SEEDS
50 g sunflower seeds
100 g grapeseed oil
METHOD
Place a fry pan on a medium heat and add the grapeseed oil. Toast the sunflower seeds until they begin to change colour, drain and place the seeds on a tea towel. Season with salt.
WHOLEGRAIN MUSTARD
240 g yellow mustard seeds
200 g IPA Beer
240 g chard vinegar
160 g brown sugar
12 g salt
METHOD
In a saucepan, bring all of the ingredients to the boil and reduce the heat, simmer until the alcohol is cooked out. Cover the pan and allow to hydrate in a warm place for 4 hours. Transfer to the fridge for 12 hours.
SALAD
1 head of witlof, leaves washed
Chard vinegar
Chives, finely chopped.
Willowbrae goats cheese
Artichoke leaves
Sunflower seeds
Chardonnay vinaigrette
Wholegrain mustard
TO ASSEMBLE
On a plate, create a bed of Willowbrae goats cheese. Dress the witlof leaves with chard vinegar and place on top of the goats cheese. Sprinkle with chives. Top with the artichoke leaves, sunflower seeds, chardonnay vinaigrette and pickled mustard.
HOTEL CENTENNIAL

88 Oxford Street, Woollahra NSW 2025

merivale.com/venues/hotelcentennial
THE FINALISTS
LHM Foods's zatar-spiced Tasmanian salmon salad (NSW)
Heno & Rey's heritage tomatoes and whipped goat's cheese salad (WA)

Dish of the Year returns next year. Entries open early 2019.