Meet the Women in Foodservice winners: Thi Le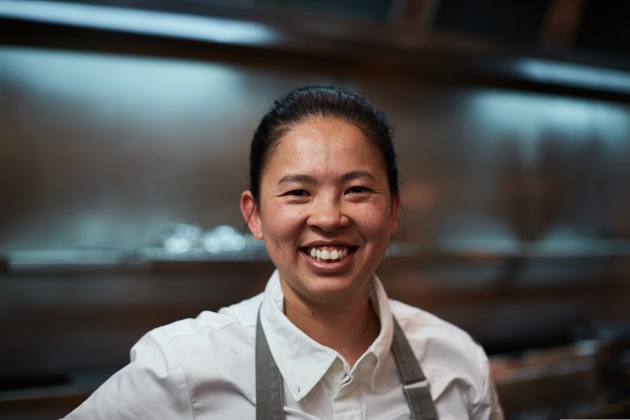 Chef of the Year: Thi Le
Chef and owner at Anchovy, VIC
What drew you to a career in foodservice?
I have always enjoyed interacting with customers. Being able to offer something that can help make their day is a big part of hospitality. My earlier forays into the industry saw me working in pubs and dive bars where I learned the fine art of banter from retirees nursing their mid-morning lagers. I have always been involved in the industry, starting with a design degree that I hoped would lead me to designing bars and restaurants for a living. Working in bars was a way to understand how these establishments operated, so that I could design them better. Needless to say I never made it to designing.
How do you describe your food?
In its least complicated form, the food at Anchovy reflects my heritage and my interests in travel and food history. In all, you get something that is predominantly Vietnamese in ethos, interspersed with culinary influences of the geographical area where the borders of Vietnam, Laos and Yunnan (China) meet. I dub it "jungle cuisine".
What's the most important thing you've learned over the course of your career?
Patience is a necessary quality that is easy to understand, hard to master, often forgotten, and manifests itself in different forms. As a chef, it took me a long while to truly understand that creativity and refinement take time. The pressure of menu design and of perfecting a dish or a technique used to weigh on me until I realised that pressure came from within. The quality of patience gave me the insight to note the difference between perseverance and working myself into a mental and physical rut. Patience gives me the capacity to teach and provide my staff the support they need to flourish. It is also a quality I try to instil in my team – to slow down and think about what they are doing. 
How have dining habits in Australia changed since you began?
Dining is influenced, more than ever, by the knowledge we have as end-users. Diners are increasingly confident in what they know, and our roles as chefs are to help tweak that knowledge to better articulate who we are as second or third generation Australians who also have our own ethnic heritages to represent.
What's always in your fridge?
It is currently an assortment of condiments, random things mum offloads whenever she visits, and booze from dinners with friends gone by. Out of our condiments I really love Adam James's (from Rough Rice) fermented sauces. They go with everything. On our days off we also cook a lot of broths and soups that will get us through the week. It is amazing what you can do with a base stock. I try to buy just enough on a daily basis so that nothing goes to waste.
What has been the hardest dish or technique for you to master?
I think the hardest thing for me is to understand and master is my palate. Palate refinement is something I think we should teach in cooking school. It is one thing to understand textures and flavour, but another to be able to bring them all together cohesively. 
Read about all the winners from the 2019 Women in Foodservice Awards here.