Fighting food waste with Australian hospitality leaders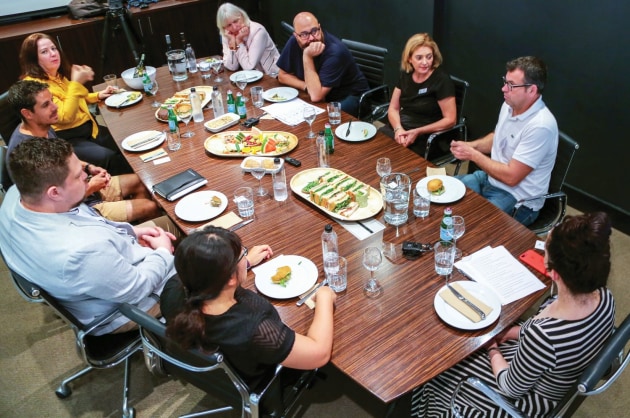 In a roundtable presented by foodservice and NSW Environment Protection Authority, industry leaders discuss what their respective operations are doing to cut and combat food waste, as well as what the sector as a whole could and should be doing.
Host:
Anita Connors, editor of foodservice magazine.

Participants:

Somer Sivrioglu (owner and chef of Anason and Efendy)
Ian Oakes (owner and chef of Drakes Eatery)
James Garvan (chef at OzHarvest and lecturer at Le Cordon Bleu)
Tua Fatongiatau (chief steward of Hilton Sydney)
Carly Cumming (general manager of catering company, Gastronomy)
Amanda Kane (manager organics at NSW Environment Protection Authority)
Sarah Chen (project officer at NSW Environment Protection Authority).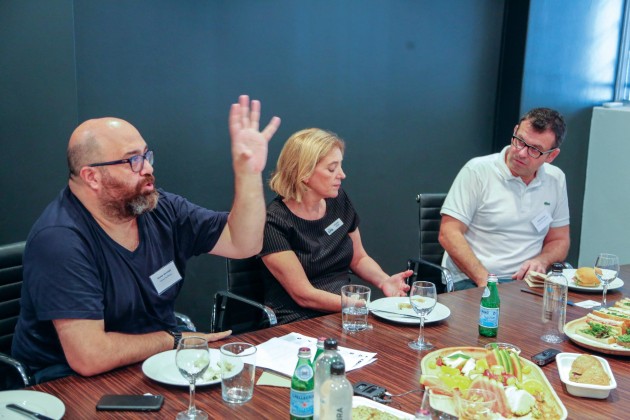 Anita: What are the different types of food waste in foodservice?

Ian: Food waste at Drake Eatery is anything that's not sold and goes into the bin. This is largely vegetable trim, however with vegetables, we try to be resourceful and use as much as possible. Plate waste is the next thing, but not a lot comes back. Restaurants are always a guessing game when trying to predict what will sell, but over time you can get it down to a fine art and limit any wastage. You don't want to waste food, for the obvious reason of respect for the food and the costs that you've put into it. You try and manage that as best as you can, that's managing a kitchen.

Carly: As a catering company, Gastronomy sees food waste in two parts. Firstly, waste as a natural by-product when we're cooking. We're pretty good at handling that. We have seven compost bins. One for each day of the week.
It's the other end that is more of a problem. We might be booked for a 100-people cocktail party, but on the night only 50 turn up. We have ways to manage that, but there's waste. Our buffet wastage reports helps tell us if we can refine a recipe to help reduce waste. But, people don't expect to be the last person to walk through a buffet and there's no food left. So there's always going to be leftover food. Accordingly, we work with food donation charity, OzHarvest.

James: The amount of food waste in training colleges is amazing. The main focus of a class will be for students to reproduce the dish that they've been shown. They're not very waste conscious because they've got two and a half hours and you know, heads down, tails up. If you have 60 students and they're each throwing half a carrot away, that's a lot of wasted produce. It's not holistic. There is a course on sustainability, but it's a separate two weeks.


Anita: What are some statistics on food waste in New South Wales?

Amanda: About a million tonnes goes to landfill every year. At home or at work or when they're out, food waste always happens. Everybody does it and yet it is usually avoidable.

Sarah: Research shows 20 per cent of food bought by consumers gets wasted. That's $3,086 a year for the average household. Another way at looking at it is one in five shopping bags. It's staggering.


Anita: What are the impacts of food waste on the environment?

Amanda: It's landfill, primarily, where it produces methane. Food waste is a massive contributor to greenhouse gas emissions.
James: In addition to the actual physical waste are the resources that have been depleted to produce our food. Statistics say that for every 500 grams of beef produced, over 7,000 litres of water are needed. You're watering the crops, you're watering the animal, you're probably using water to clean the abattoir afterwards, and that's only 500 grams. Think then of the resources that go into a 900 kilo cow.


Anita: When did food waste first come on the radar for you?

Somer: I guess it was living with my grandma in Istanbul in the late '70s when Turkey was under a big sanction. There wasn't that much food around. Still she managed to create amazing food with pretty average ingredients. She would utilise everything; the flesh of the eggplant would go into one dish, while the skin would be used for another.

On a professional level, well it was quite personal too – I lost my wedding ring while I was cooking. I knew that my wife would chop my head off, so I asked the whole kitchen to help me look. We put down a big tarp out the back and emptied out the bins. Seeing just the amount of food that we wasted on a pretty average day was quite enlightening for me.
Tua: At the Hilton, we feed 1,700 to 2,500 people every day, depending on how busy we are. We wanted to reduce our food waste so we partnered with NSW EPA in March last year to do an eight day food waste trial. We measured our pre-waste, plate waste and production waste. As a result, we found that we had actually wasted 8.5 tonnes of food. That was roughly a tonne a day, which equated to a half million dollars annually. It was a turning point.
Ian: When you're training to be a chef, you're always told not to waste anything. I remember my head chef saying to me, "You make money on what you don't throw away". He would check the bins, make sure we weren't wasting anything, make sure we were cleaning the fish properly, and make sure portion control was right. So, from being taught those rules, I naturally try not to waste anything.
James: When I was younger I went to work for a small restaurant in West London. The chef had a daily changing menu; it was seasonal, it was produce-led. He was also fastidious about the waste. The owners probably weren't concerned with the environmental impact, more the financial impact, but it taught me about food waste. We would get whole animals in and break them down, nothing was wasted.


 Anita: How do you inspire change and awareness?
Somer: Once a month, per restaurant, we open the garbage bags and we go through it. We show the staff what doesn't have to go to waste. We might say, "This can go to compost," or, "This can be picked up by a food donation charity." Instead of punishing the restaurants, the aim is to educate them and to get them to understand the issue.

Tua: Education of both the staff and the clients is important. We've recently launched a program called 'Meeting with Purpose', which educates clients on how and where we're sourcing the food from, as well as educates the staff about not excessively topping up the buffets. There's always food at the back and we can always prepare a plate and bring it out to them.

Carly: The next generation is a lot more aware. The apprentice in our hot section and a commis chef in our pastry section were the two, most passionate about food waste in our main kitchen. They helped Gastronomy change its attitude towards waste as they get others thinking and talking about food waste.
Ian: Running the kitchen as a business is the first step in being aware of food waste. But also being more aware of the environmental impacts and learning about the whole chain. It's important to get the staff to see it not only from the commercial side, but also from the producer's side and from the farmer's side.


 Anita: What practical tips do you have for chefs looking to reduce waste and repurpose ingredients?
Sarah: The first thing we ask every business to do is measure their food waste in three buckets. Part of it involves entering how many people were served that day as well as how much money had been spent on the produce and ingredients. Businesses are always so shocked to see how much they waste, because when you throw away half a tomato, you don't think that's a lot, but it can add up.

Every business that sees over a 25 per cent decrease in food waste, always has the same thing in common; they always engage the staff. They tell the staff what they're going to do and then have assign a chef to monitor all the food waste. They then always share in the staff meeting the weekly data on food waste.

Tua: When we started focusing on food waste, we introduced food waste bins into all the kitchens and function spaces. Signage was put up, new staff were trained on their welcome day, and there were staff briefings. It has been a challenge for the better part of half a year. But now we find that team members are policing themselves, so the actual education and the teaching has started to filter through.

James: Smaller, seasonal menus means being market-led. It means supporting the local community, and it means having more control over your menu. Also that your menu would be written almost every day and be customer-focused.

Somer: Apple tea is one thing that we do. We take the cores and skins of apples, we dry it, we pulverise it and then we serve it in one of our most popular hot drinks. It's all natural, we don't put any sugar in it. All it costs is a cinnamon stick and everything else comes for free.

Pickling watermelon rinds is another example. It tastes exactly like cucumbers, so no one knows it if you don't say. Similarly strawberries, both the more mature ones and the unripe ones are fantastic for pickle.

Ian: I didn't really want signature dishes, but when your customers say, "We love that dish, please don't ever take it off", I can make that compromise. There's maybe five dishes that I'll not change, but I'll change everything else or change a garnish that goes out of season. It's a delicate balance, I love change, I love evolution. Also a good initiative is to look at ways of composting with green waste.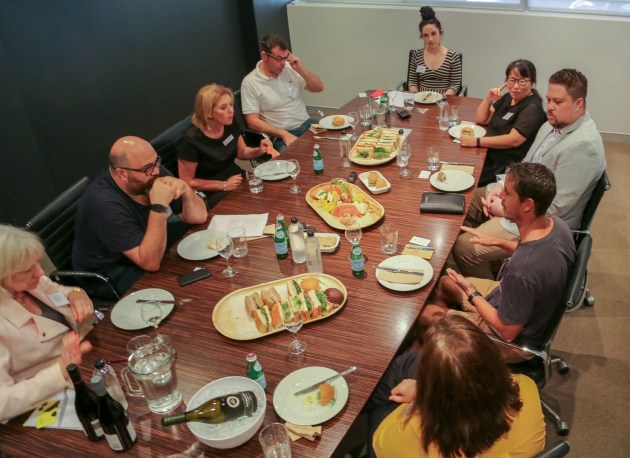 Anita: In the fight against food waste, what will be the biggest challenge for the Australian foodservice industry over the next five years?

Amanda: It's a huge challenge. You have to have things like the education, the willingness and the enthusiasm to change. There are so many factors that influence your ability to be able to waste less food. Businesses need to make sure that they've got enough food for diners, the uncertainty can be quite difficult.
Ian: I guess awareness is the biggest thing. If you're not aware of it, then you don't tend to do much about it. So the more education, the more support and the more awareness, the more it's going to become the norm and the better it will be in the next five years.
Carly: If kitchens haven't already started managing their food waste, then they will do so. The next step is really about initiating something on a bigger scale.
Sarah: I think the challenge would be for individuals to say that they want to be leaders in reducing food waste. We need leaders in Australia, one who will educate consumers, share their knowledge and who will speak up for their beliefs.

The NSW Environment Protection Authority presents the Love Food Hate Waste program for NSW businesses. Find out more about the program and organisations delivering it in your area, visit lovefoodhatewaste.nsw.gov.au.