Vernon's Bar Opens In Summer Hill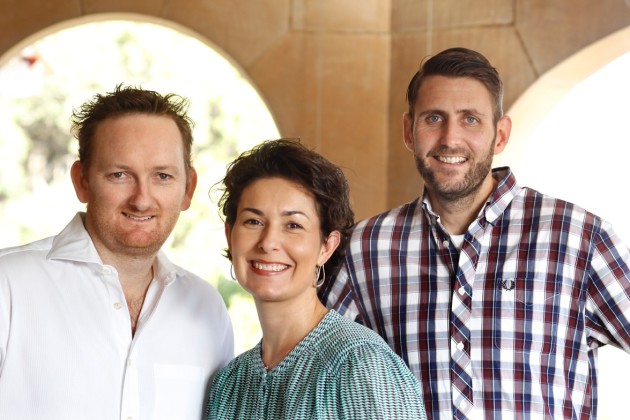 The team behind Sydney's inner west dining destination One Penny Red is all set for the official launch of Vernon's Bar tomorrow night. Situated uptairs in the iconic former post office, the 60-seater pays homage to the buildings' heritage in name, concept and menu.
foodService spoke to chef RJ Lines and business partner David Murphy to find out how it feels opening their first bar together, and just exactly who was Vernon.
Congratulations on the launch of Vernon's Bar. How does it feel?
RJ: Thanks! It feels great to finally own a bar that I would happily frequent.
D: It's been a long but rewarding process, and yes we're very happy to have opened Vernon's. It's been a massive team effort considering we rennovated the whole space in just 3 days.
What is the inspiration or concept behind Vernon's Bar?
D: As Nina says, keep it relaxed, fun and accessible for our local and regular patrons. The concept is to offer a different experience to One Penny Red downstairs whilst still offering a quality small bar venue that you don't have to travel to the city for.
Where did the name Vernon come from?
D: Walter Liberty Vernon is the name of the architect who designed the post office in 1900. Just as One Penny Red is a nod to the buildings origins, Vernon's is a nod to the man who designed it.
How did your collaboration begin?
RJ: With a VB and seafood delivery about five to six years ago.
D: Yeah, I did a sabbatical with a seafood company for a year and whilst delivering a last minute item, RJ gave me a stubbie of VB as thanks! From there our business partnership blossomed.
How does Vernon's Bar reflect a dialogue with One Penny Red?
D: As far as fitout is concerned, the building is heritage listed so our design was very much in line with the buildings history. In the bar upstairs sits the original hoist from when is was a parcel room in the 1960's. The cocktails list is a sharp and balanced offering, something a little different, and the food menu is the same excellent quality that can be found in One Penny Red, with a few dishes exclusive to Vernon's.
What have been some of the challenges in making your dream a reality?
RJ: There's always a work, life balance and possible sacrifice. Every week is different. Oven failing on a Friday before service is always fun.
D: Having a young family when you are required to work nights and weekend. I'm in my 23rd of hospo, so I am used to it. But it's tough sometimes when you're working on only a few hours sleep.
The launch and first year of a restaurant's life is notoriously difficult. What have you learnt from establishing One Penny Red in the Sydney wine and dine scene that you have put into practice with Vernon's Bar?
D: I have learnt many things but two that stand out are, firstly, be true to your vision using the confidence of previous business experiences. don't be afraid to make a hard decision. And secondly, continue to respect your customer and offer them a personal experience rather then just a drink.
How have the two of you developed your business acumen?
RJ: Through working with some great chefs in the past, running their businesses for them and through Nina at One Penny Red.
D: With the help of my partner Nina (Alidenes) who is a co-owner of Vernon's. She is a force to be reckoned with. Her ability to manage a business is quite humbling.
What do you enjoy most about owning and managing a bar business?
RJ: The free stuff. And the ability to share my ideas about food and menu design and to have them received so highly.
D: Yeah, writing a wine list is so personal and when a guest comes in and says, "I love the list, and the food is amazing," your job is done.
What are you most proud of?
RJ: The product that we offer as a local bar. It's honest, fresh and delicious. We're not trying to be like anyone else, or ride a trend – we just want to be the best we can and I'm proud to say I think we're pretty close.
D: Our team. The guys at Vernon's and One Penny Red are the best bunch, who have worked tirelessly to ensure that the product we offer our guests is the best. No smoke and mirrors just damn food, wine and service.
What is your least favourite aspect of it?
RJ: The days when shit hits the fan, usually it's more then one thing that happens, like a perfect storm.
D: Like any business owner, dealing with a complaint is tough. Nothing is ever intentional.
Is there anything you wish you had known before you became a bar owner?
RJ: Through the many years of working you get to learn all the good and the bad, hopefully I remembered the good.
D: So many things. There are no real surprises in hospo, just challenges.
How did you approach creating Vernon's Bar drinks and food menus?
RJ: I spoke to a few regulars and listened to the feedback. Through this process we have introduced some really cool sharing boards, some crowd pleasers, and a few dishes from our smoker in the yard like the lamb ribs. It's the type of food that I would enjoy if I was out, fresh and seasonal.
D: The drinks menu was about having a great choice of G&T's, wine and cocktails that could be made without being too busy to look at.
What are some of your favourite items on the drinks and food menu?
RJ: The pork chop. And the bagel and the lamb ribs, and any beer from the boys at Batch Brewing.
D: I really enjoy the lighter options, seafood crudo and the smallgoods that RJ makes at Vernon's are excellent. I like beer too.
How many staff do you employ?
D: We are quite a small venue, so collectively we employ around 20 staff with ten to 12 of those being on a full time basis.
What do you look for when hiring staff?
RJ: Previous experience, a postive attitude with the ability to learn, and how they fit within the team.
D: Someone with a passion for the industry, past experience, attitude and appearance that is appropriate for the space.
What community impact do you hope Vernon's Bar will have in Summer Hill?
RJ: Provide a space or meeting place that is relaxed, accessible and feels local, with the ability to host community-based events.
D: I agree with RJ. Also to share our passion for food and drink through their experience at Vernon's.
Over your respective careers, how has the Sydney drinks and dining scene changed or evolved?
RJ: The lock out laws suck, they have really affected some of my friends' businesses, and not in a good way. Food has been hyped up over the past few years that we are seeing some pretty whacky stuff being served. Instagram-styled menus are big too. But the quality of new products that have become available over the past few years has been really exciting
D: The rise of gin has been really cool to watch. We have 22 gins at Vernon's with a G&T menu. The launch of some really amazing products has really set the bar scene alight along with the refocusing on cocktails and classics.
Also the emergence of craft beer. Vernon'ss has only one imported beer, a Japanese white ale, and a great selection of local brews from Adelaide, Melbourne, Northern Beaches of Sydney and locally like Marrickville.
Vernon's Bar
2 Moonbie Street
Summer Hill
Ph: (02) 9797 8118

For further information, please visit vernonsbar.com.au