Testing the kitchen: Meat Fish Wine's Darren Mercaldi
Melbourne's Meat Fish Wine Test Kitchen is all about the freshest seasonal produce. Tim Grey takes us inside to meet head chef Darren Mercaldi, whose unexpected menu celebrates the fresh produce of the day.
For chefs and restaurateurs, Instagram is a double-edged sword. While it has unquestionably provided an attentive audience for chefs to ply their wares, and a forum in which to discuss and disseminate the finer details of dining, it has, in some ways, fostered a culture of hyper-criticism in which everyone's an expert.
Some chefs – Heston Blumenthal, for example – have railed against it, and openly condemned the habit of photographing one's meal rather than eating it. Others – Mark Best, say – have embraced it wholeheartedly, using their account as a kind of visual diary, capturing and recording their every new experiment. And some, like Darren Mercaldi, head chef of Melbourne's Meat Fish Wine, are more philosophical. "I wish I had Instagram when I was an apprentice," he admits. "It's like an online cookbook, a free online cookbook for the best chefs in the world. You can get up, and just log on, and have a look what they did for a lunch special. I would have loved something like that."
On the other hand, says Mercaldi, it puts pressure on kitchens to constantly keep things fresh, whether that's actually what diners want to eat. "It's not that easy these days to come up with new things and keep everything new and exciting, with the amount of restaurants, the amount of chefs, the amount of knowledge that everyone has access to now," he says.
Mercaldi's solution is the Meat Fish Wine Test Kitchen, a once-a-month set menu in which he challenges himself to construct five dishes only using produce that's delivered fresh that day.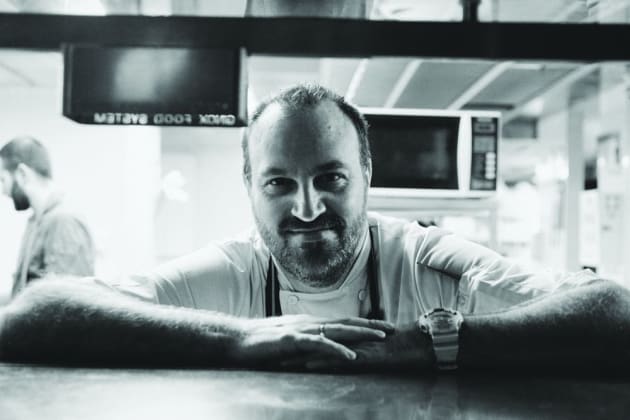 Speaking with Mercaldi a few days before his first event, the chef, true to his own constraints, hadn't even begun thinking about his menu. "I've had a busy couple of days, so I haven't even had a chance to think about it, which is good," he says. "The reason I did it was because it's going to be exciting."
To his mind, his best work comes from a spirit of improvisation. "There's been nights where I've had to quickly do a vegan dish in eight minutes because they've decided not to tell me before they come in, and some of the best dishes I've ever done have been really quick," he explains. "I don't even understand, sometimes I even laugh, because I've done dishes where it's taken me two or three weeks to really think about it, and I've thought it out, and it hasn't been well-received, and then I've just sort of thrown together some things, and it's turned out to be really good."
It's a format that's proving increasingly popular in Melbourne, with Attica's long-running test kitchen booking out months in advance, and Peter Gunn's new restaurant IDES running a similar model for the entire restaurant.
The test kitchen model allows the chef to genuinely engage with seasonality, without there being an expectation from diners that out-of-season ingredients should be available year-round. "If I go through the menu, I'm using local mushrooms, I'm using Jerusalem artichokes, I'm just about using everything that I can get my hands on that is perfect this time of year," Mercaldi explains. "But with seasonal food, there hasn't been a background of that in Australia. We've been a very fortunate country, and we haven't had to live off seasons. My grandparents are from Italy, and they understand Italian food inside out, because they had to cook what was in season, just because it was there. In Australia it's just different, they don't understand it like that."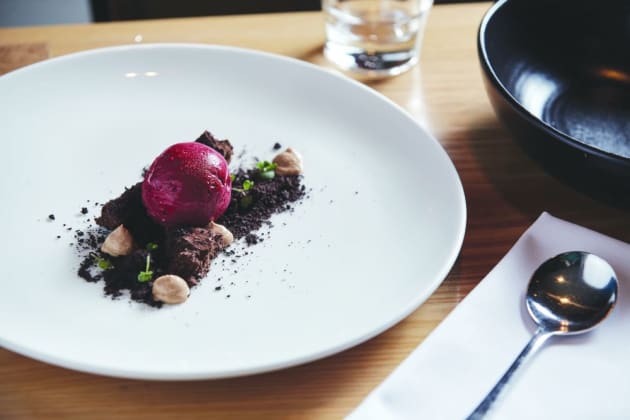 The Test Kitchen program also works as an excellent training exercise for Mercaldi's team, stretching their skills to create a menu in a day, but also think about their dishes in an unconventional way. "It's exactly like staff meal," says Mercaldi. "They're always used to following recipes. This will give them free reign to work out how to put something together and serve it for 20-30 people. The more they know is better for me."
Providing opportunities for young chefs to do something a little more creative than learn how to cook on the line could have potential benefits for staff retention, too. "You have to keep up with the times, or you get left behind. It's good for your personal growth," says the chef. "You've got apprentices, and students, and commis to keep amused. It's even hard to retain staff, sometimes, because there's that many restaurants."
It also allows Mercaldi to try out new ideas that've been floating around, and assess whether a dish or a technique should make its way onto the permanent menu. "We can try bits and pieces, a garnish we might want use," he says. "It's a chance to see what can stay and what can go."
Giving himself and his kitchen a moment of unfettered experimentation, the Test Kitchen provides a forum to reassess style and technique. "When I create a dish, I ask myself what haven't I done in the past, what have I done that I can create a little bit different, make a little more modern than I did it 5 years ago?" says Mercaldi. "Then I think about texture, technique ... This one will be a lot different than normal menu planning, this one, because there's no boundaries and it's a bit of a play, so the scope will be much more open to me."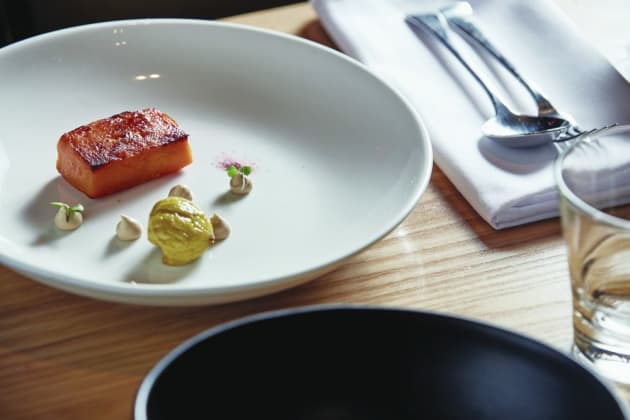 By serving a set menu based entirely on what's available that day, it gives Mercaldi a chance to recast his relationship with the diner. "In this new age of Instagram, and Zomato, and TripAdvisor, you're always up for a review from an amateur," he explains. "Everyone's got a blog these days, and it's really hard to test food, basically. You can do a special, it might not sell. It's really hard to play around with food and not be judged."
This way, instead of making demands on the restaurant, the chef offers what he judges to be the best possible product served in the best possible manner. "They've got to be open to if it works or if it doesn't," he explains. "I've been cooking for a long time, you're not going to get served something that you're going to want to spit out."
That lack of trust in the kitchen is often reflected - perhaps to an unhealthy degree - on social media forums such Instagram, Zomato and TripAdvisor, where negative opinions are amplified, justified or not. " It's human nature. When you've had a bad experience, you'll tell the world about it, and when you've had a good one, you just walk away happy. That's a massive problem," he says. "It's people's lives, and we work hard. We're pouring our heart and soul in it. We're not deliberately trying to make people not like our food. We'll try everything we can."
While Mercaldi's enthusiastic with the prospect of coming up with a seasonal menu on the fly, he's not sure the model would work in a restaurant permanently. "That'd be a very hard market to crack, I think," he says. "Some people are adventurous, the others aren't. It would be a strain, there'd be a lot of training involved. I think it would ideally work at a restaurant that's shut for lunch and was just open for dinner, because you'd need all day to go through it with the team. For food costs-wise, you'd have to deal with a few things from the night before. It would be fun, but it would be very tricky."
But ultimately, the Meat Fish Wine Test Kitchen gives Mercaldi an opportunity to cook for diners the way he'd want to be cooked for himself. "If I was a local, lived in the area, or I wanted to go out to dinner, this is what's going to get me off the couch on a Wednesday night in winter," he says. "What could be more exciting than just going into a kitchen blind and finding out on the day what you're going to have? To me, that's the perfect restaurant."
For further information, please visit meatfishwine.com.