SPONSORED: Unilever Food Solutions 'We're For U' campaign puts chefs front and centre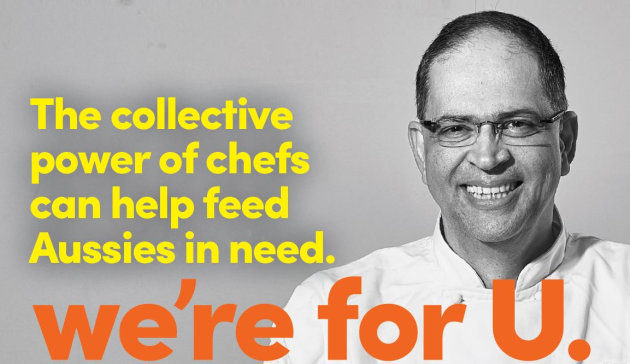 In the 30-plus years Yezdi Daruwalla has been in the foodservice industry, he has witnessed an evolution in the kitchen, in particular, the increasing demands that have been placed on chefs.
While their job today includes everything from training, staffing and waste management to keeping an eye on changing legislation, emerging food trends and social media, the need for chefs to stay on top of their game and run profitable businesses has made it an increasingly challenging field to enter, let alone succeed in.
Unilever Food Solutions recognises those daily challenges, which is why it is launching 'We're For U' a campaign aimed to help chefs understand that the business not only develops products for chefs but is also one of the few dedicated foodservice businesses with the resources to help chefs love what they do.
"We have more than 300 chefs in the global Unilever Food Solutions business who have diverse experience and expertise and a very good understanding of what it's like to be a chef," Daruwalla says.
The managing director of Unilever Food Solutions, Daruwalla began his career training as a chef in five-star hotel dining at the distinguished Taj Group in India, and travelled the globe before settling to work in Australia, as executive chef at the old, Sydney Parkroyal Hotel before joining Unilever just over 25 years ago.  
That wealth of experience has enabled him to guide and shape Unilever Food Solutions from a commodities business to a food solutions brand that offers chefs everything from quality brands, inspiration and training, to recipes and trends – all developed by chefs for chefs.
"It takes commitment to run a successful kitchen," Daruwalla says. "The pain, the burns, the drama, the hours. It's something that chefs alone can understand.
"That's why we employ more than 300 'white jackets' within the global Unilever Food Solutions business – 16 in Australasia alone – helping provide chef-to-chef solutions.
"This is in our DNA and what we call chefmanship."
The 'We're For U' campaign aims to raise the profile of Unilever Food Solutions as a business partner who can inspire chefs across many facets of the commercial kitchen as they are pushed to become more commercially astute with tougher budgets, insufficient skilled chefs and a more demanding and discerning diner.
"Some chefs are interested in recipe inspiration, some chefs are interested in food safety and dealing with allergens, some are interested in greater efficiency in the kitchen," says Daruwalla.
"Those are the things that we can tailor best to each customer to meet what their needs are.
"The solutions delivered by the team at Unilever Food Solutions can help a chef not only achieve better quality but to also achieve stable pricing, consistent standards and a food-safe product.
"Our chefs are very much part of the business – they are within our sales, they are within our marketing, they are within our R&D.
"Our chefs know how to work within the constraints that chefs face every day and know how to get the best out of our professional, chef-quality food ingredients. Then the chef can add their own creativity and flair to them, if they so desire."
We are living in an increasingly uncertain and volatile world with temperatures rising, more frequent droughts and an increasingly scarce food supply.
Australia produces enough food to feed 60 million people, yet two million Australians rely on food relief each year.
Simultaneously, one third of food purchased by foodservice operators is estimated to be wasted including raw material, prepared food and plate waste.
From its origins, Unilever has been guided by our vision of 'food that tastes good, does good and doesn't cost the earth' and wants to be part of the solution.
The Food Collective, our partnership with OzHarvest, uses the power of chefs to raise money for OzHarvest which in turn rescues surplus food and feeds vulnerable Australians.
Food is simply too precious to waste and Food Collective is a chef's way of helping reduce food waste and simultaneously earning rewards, simply by using Unilever products.
After three decades, the daily challenge of finding true solutions for chefs is what keeps Daruwalla in the game.
"I can't see any other job that would give me more satisfaction than what I continue to get and thrive on with Unilever Food Solutions," he says.
"It's a case of finding your purpose and being able to put it to work every day."
For further information, please visit unileverfoodsolutions.com.au.