Melbourne and Sydney: A tale of two burgers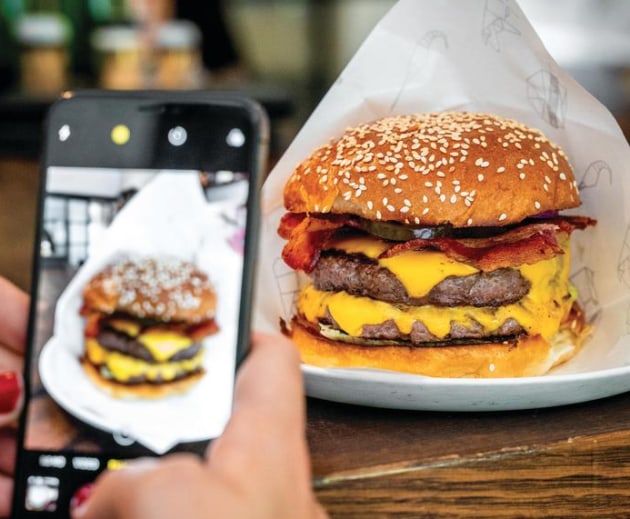 The people will always want the burgers, but with 36-month aged cheddar or liquid Velveeta? Towering with toppings, or just a simple Wagyu patty? Aleksandra Bliszczyk asked two Australian burger kings, Shayne McCallum of Melbourne's 8bit, and Kerby Craig of Sydney's Ume Burger, for their takes on where burgers have been and where they're going in their cities.
"I think everyone's doing it tough these days, and I'm not just talking burgers," says Shayne McCallum, chef and owner of Melbourne's 8bit Burgers. "I haven't seen a [burger] place packed in a long time. It's not as crazy as it used to be."
When I spoke to McCallum in 8bit's Melbourne CBD store (the original is in Footscray, and a third has recently opened in Sydney), it had just opened for the day, and we were the only two there. After our chat on a cloudy Wednesday morning I decided to stick around for lunch.
About an hour later at 12:45pm, the restaurant was full. Collared workers, uni students, and couples about town were queuing to order. And while the line may not have been out the door, almost every seat was taken. I even overheard a server apologise to one customer who had waited about 10 minutes for his meal.
Most restaurant owners would kill for demand like this. And although McCallum says it has quietened down since 8bit opened in 2014, it's still pretty noisy.
Kerby Craig, chef and owner of Sydney's Ume Burger and Bar Ume says he's at his busiest point of their three years of business. "It hasn't tapered off, it's been growing."
Craig, whose first chef job was at Tetsuya's, opened his Japanese Ume Restaurant (upmarket precursor to more casual Bar Ume) in 2011. Back then, Craig says Rockpool Bar and Grill had the city's only decent burgers. "There was nothing in Sydney."
In the following years, Craig had made plans to open a high-turnover casual diner to prop up his high-end restaurant and, in 2016, pulled the trigger.
"The whole burger thing was taking off in Sydney, so we decided this was probably a good time to start with our burgers."
2016 welcomed many of the city's biggest and best, including Down 'n' Out and BL Burgers, just after Five Points opened in 2015 and Mary's Newtown in 2013.
The burger craze hit Melbourne around the same time.
Before 8bit, McCallum says that "there was really not much around, Huxtaburger was probably the biggest."
But around 2015, it exploded. Now, every cafe in Australia does some form of bun-encased meal, and burgers have become some of the most Instagrammable foods out there.
The burgers themselves have grown too. From Huxtaburger and Mary's simple squishable cheeseburgers, both cities (and half the world) saw the trend shift to towering seven-patty Godzillas stuffed with mac and cheese croquettes and dripping molten Velveeta. The idea that "it looks good, ergo it must taste good" became the norm, largely because of, dare I say
it, Instagram.
"Influencers love food as much as chefs," says Craig, but "it becomes this weird little ecosystem of influencers [who] come in, and because they want something that their fan base wants, then that influences the business. So the [restaurant] starts doing it, and basically you pigeonhole yourself into the market. But these [influencers], you can't satisfy them. They just want more and more."
We've all seen a hyper-trend-based foodservice business whose fodder is designed to photograph well first, and taste good second. But while Craig calls this food "the lowest hanging fruit," McCallum says he'll "never diss Instagram", as it's been a factor in their success.
"We pride ourselves on being very Instagrammable. The colours, the box, which we designed for our burgers to sit in." He's talking about the box that props the burger upright, ready for a cross-section snap.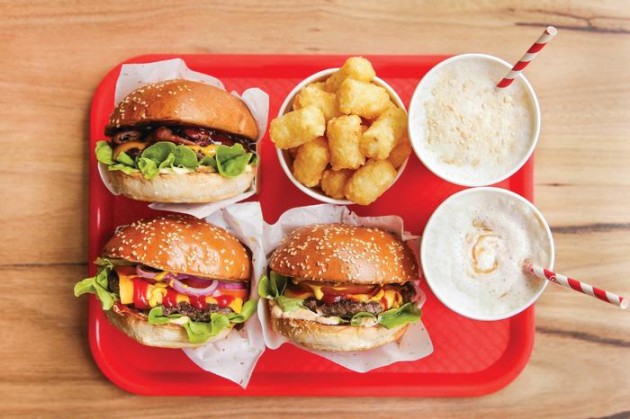 8bit has over 30,000 followers on Instagram, and the hastag #burger is used on over 13 million photos on Instagram. No doubt by the time this story goes to print that number will be higher.
But McCallum and Craig agree that the burger fanaticism reached its peak roughly three years ago, and has just started to slow down in the last 12 months.
"It's getting a bit saturated. There's a burger place on every corner," says McCallum, who says that despite wanting to expand 8bit to Brisbane and Adelaide, has held back because of the high volume of local joints.
"It becomes a bubble. Everywhere you turn there's a hamburger and people get bored of it and go, 'Nah it's all the same'," adds Craig.
Craig believes that to stay relevant, you need to do something different and create your own demand.
"I don't want to jump in the pool with everyone, I want my own pool," he says. "If you create your own pool, your business will always be a little bit more insulated. We're part of the burger craze because we came out at the right time, [but Ume] is a standalone thing, and that's what I wanted to create."
Japanese burger culture is not new, in fact it emerged after WWII due to the American presence in the country. Now, he says, some chefs in Japan take burgers very seriously.
"Japanese food is all about balance. It's easy to put a bunch of shit in, but to cook something simply takes skill and confidence. So these Japanese hamburger places really fit into my philosophy for why I cook Japanese food. You can't hide … you have to do it perfectly," says Craig, who has been to Japan 19 times.
So that's what he did, and Sydney ate it up. Ume carved out its own space in the market with what Craig calls "an Australian take on a Japanese take on an American burger".
Each of his burgers has between four and six components, with strictly no alterations to the menu to ensure a balance of flavour and texture.
While McCallum agrees that when it comes to burgers, the simpler the better, and his best selling burger is also the simplest (8bit with cheese: beef, cheese, sauce and salad), he also believes that you should use trends and the hype around novelty to your advantage.
"Nearly everything's been done now, you nearly need to be doing Pokemon burgers or something stupid just to stand out."
To encourage new business, McCallum introduces regular specials, sometimes themed to coincide with holidays – like a burger with pumpkin hummus inside a black bun for Halloween.
But he's convinced that classic American-style burgers are protected from changes in consumer spending habits, as the demand for them will always be strong.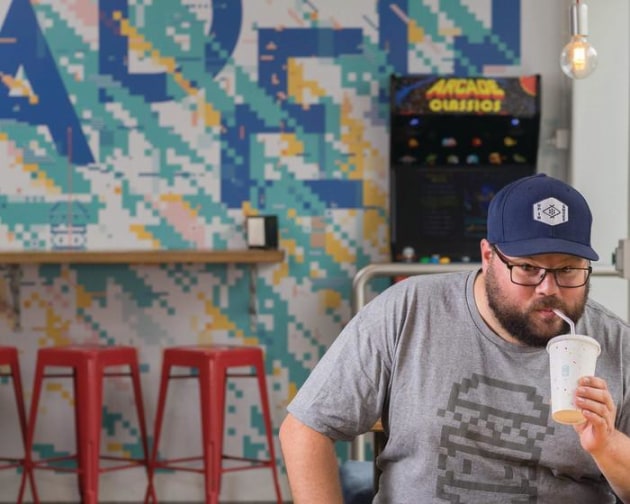 "It is nostalgic [food], for the fact that people do have McDonald's and Hungry Jacks as a kid. Burgers have always been there, and I don't think burgers will ever die."
So what's next?
With high-end chefs like Neil Perry and Shannon Bennett opening casual burger chains, McCallum thinks it'll be a while before fine-dining burgers are back, and that chefs will continue to play with nostalgic fast-food theme.
He also foresees an exponential spike in demand for vegetarian and vegan variety.
Originally, 8bit was meat only, but when it brought on one vegetarian burger as a special, "it just went berserk". Now there are multiple vego options, which can be made vegan on request.
He also thinks we'll see more Asian flavours in burgers, from bao buns to pork belly to sriracha mayo; and, he laments, probably more liquid cheese for a while.
Craig thinks simplicity and restraint will always win, but is quietly hopeful that a chef somewhere will start doing burgers with native Australian ingredients; kangaroo patties with lemon aspen mayo, and so on.
At the end of the day, a burger joint needs to offer "the whole package" to succeed, says Craig. No one is shielded from changes in trends, so every venue needs to have attentive service, a vibrant atmosphere, a thoughtful drinks list and considered food. The restaurant needs to have balance and tick all the boxes – just like a good burger.
This article was first published in foodservice's April 2019 issue. Read the digital magazine here.