Meet Wasabi Restaurant & Bar's Zeb Gilbert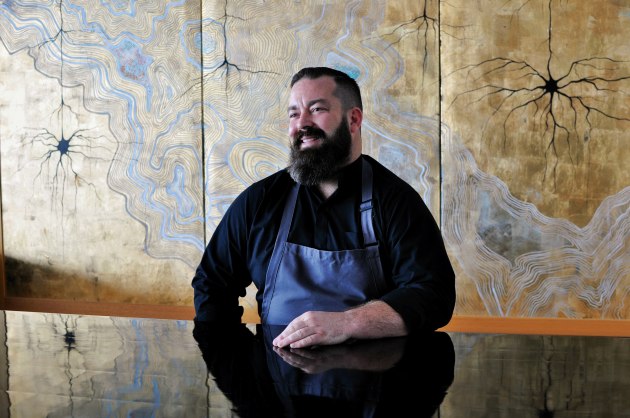 How does a chef who loves cooking outside and sleeping in a swag on a river bank win the 2017 Australia's Top Restaurants' Award for the best restaurant in Queensland? As Zeb Gilbert of Wasabi Restaurant & Bar in Noosa tells Jill Dupleix, you just source the most beautiful produce from the sea and the richly fertile hinterland around you, and highlight it on the plate. Simple.
Zeb Gilbert isn't Japanese. Yet he's the group executive chef of one of Australia's most acclaimed Japanese restaurants, the two-hatted Wasabi in Noosa founded by the entrepreneurial Danielle Gjestland. How does that work? "It works because we're developing a local cuisine based on local ingredients, just as the regional restaurants do in Japan," he says.
He's a prime local ingredient himself, having grown up on the Sunshine Coast, first at Landsborough, then Imbil, 40 kilometres from Noosa. "I had no idea how lucky I was," he recalls. "My parents raised pigs, sheep, cows, guinea fowl, ducks and geese. We did all our own butchering, and cooked outside over fire, pretty much living off-the-grid."
It was at The Spirit House in Yandina that he first fell for Asian food, but by 2009, he was working in Brisbane at a small bistro called Simple Pleasures run by Kate Von Bremen. Readers, he married her. Their year off travelling through South East Asia only confirmed his belief that the more direct a connection to the land, the better. "I felt so at home in Asia, eating in little villages on local, paddock-to-plate food."
After two years as head chef to the equally Asian-inspired David Rayner at Noosa's Thomas Corner, Gilbert moved to Wasabi in 2014 to head up the kitchen.
Having two head chefs in the one kitchen could be a recipe for disaster, but Gilbert says working with gun sushi chef Jiro Numata has been mutually beneficial. "I source the produce, he has the knife skills, and together we put something on the plate that makes both of us happy." Like local arrow head squid noodle, sweet-lip emperor and warrigal greens with yuzu citrus oil, coastal seaweeds and green tea broth, for instance.
The next-level Japanese produce is grown at Gjestland's Honeysuckle Hill Farm at Pomona, from the gobo (burdock) and hinoa kabu (purple top turnip) to the myoga (ginger flower). "We get five styrofoam boxes of the most beautiful flowers, leaves, roots and seeds, twice a week," he says.
In 2016, Wasabi launched both a boutique events space and high-end cooking school at which students mill the grains for their own buckwheat noodles. Then came that Best of State award, as voted by his peers in Australia's Top Restaurants. "That was mind-blowing," says Gilbert. "To be recognised by the people you respect in the business is pretty humbling."
For him, though, it all gets back to showcasing the ingredient and its story. "The essence of Japanese food is to make that connection to where the food is from." he says. "I grew up knowing where all my food came from. That's the ultimate."