Meet Food for Thought founder and chef Mal Meiers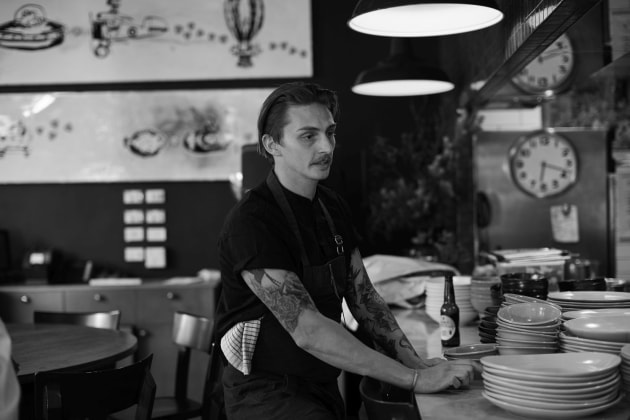 Mal Meiers, founder of charity dinners organisation, Food for Thought, reveals what it has meant to him to fight the stigma of depression and anxiety in the hospitality industry.

This year marks ten years since I first became a chef. My journey into hospitality began after high school when I was trying to find my place in the world. I had been studying at hotel school when I was approached for a job in a kitchen as an apprentice. The next couple of years saw me really discover my passion, which ultimately helped put me on the path that I'm on now.
Food for Thought was born out my own experience with depression. Prior to the first dinner in 2014 I was at my darkest point. In many ways, the hardest part about having depression and anxiety is reaching out, whether it be to friends or family, or phoning a hotline. So I was lucky enough to have a lot of support around me.
My aim for Food for Thought has always been to help raise awareness about mental illness and to help people. 100 per cent of proceeds goes to the charities beyondblue and, as of 2017, R U OK? to help them fight the stigma around mental health.
When we launched four years ago, we started with a single dinner in Melbourne and raised approximately $4,000. Fast forward to 2017 and our three sold out events in Melbourne, Sydney and Brisbane raised just under $26,000.
It's been truly humbling to see the support for Food for Thought develop and grow. Everything for these events is donated, from the venue, to the chefs' time, the food and the wine, and the prizes we raffle off.
One of the biggest things that I've learnt since founding Food for Thought is that it really does help to talk. It is for this very reason that I got R U OK? involved. Their message is strong: 'a conversation could change a life'. And you can start the conversation with someone just by asking if they're all right.
I think that in any industry there is a need for improved training to better deal with how issues surrounding mental health are managed. In the foodservice sector, it would be great to see the leaders and the managers of today come together to work out a specific path so that the industry could be better prepared and better equipped, and to train the managers of tomorrow.