Meet Danielle Alvarez, the chef behind one of Australia's best restaurants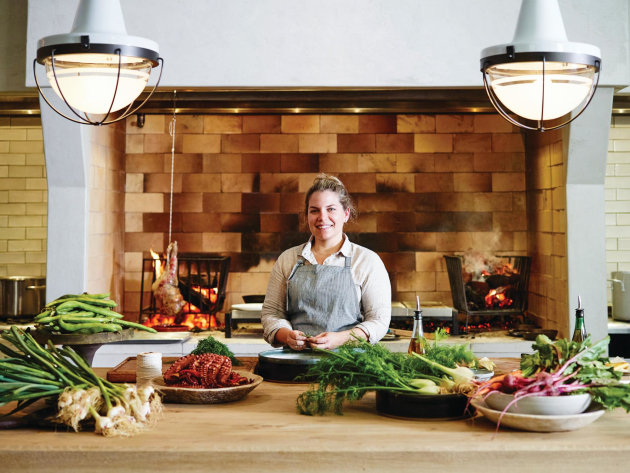 There's a wonderful, infectious idealism to Danielle Alvarez and it can be felt everywhere at Fred's. The head chef of Merivale's star new restaurant was secured by Justin Hemmes three years prior to opening and, like many of the millionaire restaurateur's decisions, he's been right on the money.
Florida-born Alvarez trained at Thomas Keller's lauded restaurant, The French Laundry, before scoring a near-impossible position at Chez Panisse, Alice Waters' icon in Berkeley. On a chance holiday to Australia, a mutual friend introduced the chef to Hemmes, who had Panissian visions for a newly acquired space in Paddington. She cooked him a meal and the rest, as they say, is history. The warm-hearted, refreshingly candid chef oozes an understated charm that seems to have this instant effect on people.
"As a kid, I never even imagined I'd be a chef, let alone have this beautiful restaurant in Australia," she says wistfully. "I knew I wanted to do something creative, so I went to culinary school, but it was never a conscious dream." Alvarez grew up in a big Cuban family surrounded by cooks, but the calling came across the country in California, where produce is at the heart of food. "That idea of taking things out of the garden and cooking with them that day, that's a very Californian thing as everything grows there. It all felt very communal, free, creative and fun. And I just fell in love."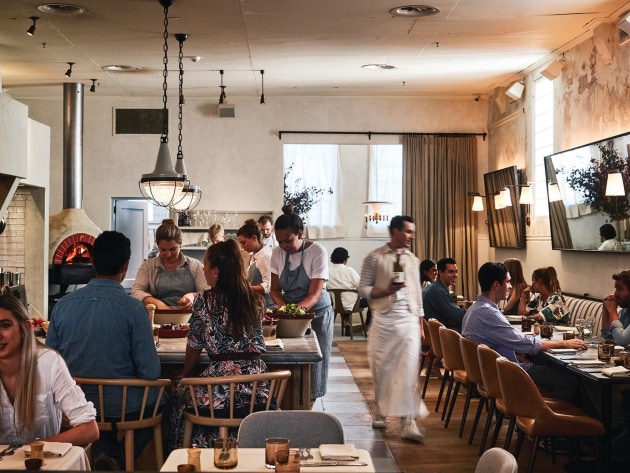 Then, she started at Chez Panisse and everything fell in place. "If you're cooking in California, Chez is kind of the ultimate, especially if you're interested in that style of cooking." The restaurant is renowned for its daily-changing menu and unique kitchen format with no recipes and each chef more or less creating whatever they want with each course. "It takes a lot of trust, skill and courage to cook that way," says Alvarez, who felt surrounded by kindred spirits.
According to the chef, only a handful of restaurants around the world approach cooking quite like Chez. But she concedes that has come with time. "I'd love to model what I do after it, but they have almost 50 years under their belt. I'm sure a couple of years in, Chez Panisse was not operating like that."
In the meantime, there are other Panisse traits she's been able to adopt. Fred's exudes a warmth, rusticity and conviviality, textured with timber, copper and abundant flowers, and anchored in the centre by a generous open kitchen. "Alice [Waters] was a believer that if you create beautiful spaces for people to work, they'll be more inspired and work better. I hope that's something people think I do at Fred's," she says. As the story goes, Alvarez sketched a drawing of a French chateau-style farmhouse for Hemmes and his sister Bettina, who leads Merivale's design, and it became the blueprint for the inviting interior that welcomes guests today.
Respect has been another hallmark. "If you have the right people that believe in what you're doing, you don't need that military-style, yelling kitchen stereotype," she suggests sagely. "If you treat people with respect, they'll respect you and the ingredients."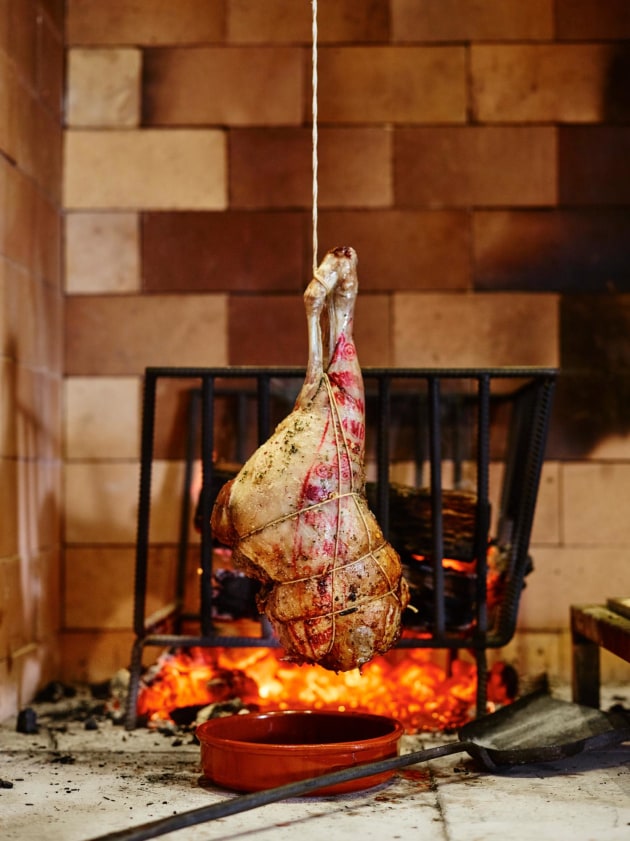 But Fred's is not all Chez. During the two-and-a-half-year development period, Alvarez took on a few head chef posts within Merivale, where she likewise observed how her co-workers operated. If talking to her proves anything, the gentle but assured approach is Alvarez.
Interestingly, as a leader, Fred's is the chef's first time truly in the driver's seat. She's also a rare sight in a heavily male-dominated industry: a female. Was she daunted? "Of course! But I was also really ready for it." She recounts her first day and all worries falling away. "It was a great lesson for me to know that I do have what it takes even if I'm doubting myself along the way." Alvarez believes this tendency is entrenched. "We [women] tend to undercut ourselves before we even get started," she explains. "I think a lot of it is just believing you can do it." In her case, it's also been female role models to look up to. Alvarez speaks with fierce pride about two female head chefs she's worked for. "There was no difference in my eyes to the males I've worked under. It really inspired and drove me."
Company culture and workplace practices have been equally telling. In regards Merivale, she's full of praise. "Working in a company that doesn't look at gender and is very much about the skills and ideas you bring, I felt a lot of confidence from that." And it's spreading. Alvarez says many of the women in her team came to Fred's to work for a female. "I think that's awesome. If I can be a tiny bit inspiring to them as so many women have been in my life, that means we'll have a lot more women continuing to work in the industry instead of dropping out."
One can't help but marvel at all the challenges Alvarez has taken in her stride, from being a female to a foreigner. "Moving to Australia wasn't a major adjustment," she explains. "There's a relaxed atmosphere that's not uncommon in California." For her, the surprise has been less cultural than industrial. "In the US, it is so competitive and hard to get a job," she explains. "I think we're failing to inspire people to get into the business here and it's forcing us as an industry to evaluate how we're doing things and attract a new workforce." And like that, she's also become an Australian advocate for change.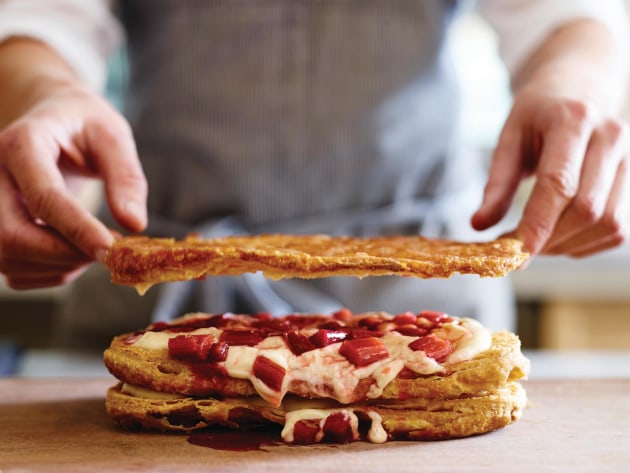 When it comes to food, Alvarez let's it do the talking. "We're constantly trying to get in the nicest stuff and not do too much to it." This, by all accounts, is one of the hardest things to do. Alvarez spent the better part of Fred's long lead fostering relationships with the producers of all this nice stuff. "To show a level of commitment, and get those people to commit to you, was really cool for me. I'd only ever stepped into restaurants where those relationships were already established," she recounts.
Each day, Alvarez writes the menu off the vegetables that come in, then picks proteins to fit, describing the ethos as old-world, from scratch and with an Italian, French, Spanish and Asian leaning. The Asian connection is something she's really taken from Australia, as is the seafood. "It's been the big thing for me. People take their seafood seriously here and demand greatness from it," says Alvarez, who describes learning how to properly cook the wide variety of fin- and shellfish as incredibly exciting. "I'm still trying to work out native ingredients a bit more; that's something that hasn't come naturally to me, but I want to incorporate more of."
She highlights a summer vegetable panzanella with tonnato mayonnaise on the menu that day, which is predominantly vegetarian, comprised of produce from different farms and a showcase of the season. "It's a symbol of what I want Fred's to be. Simple, delicious and tailored to what's good at the moment."
Since it opened a year-and-a-half ago, Fred's has garnered critical acclaim, including Gourmet Traveller's Restaurant of the Year 2018. The chef is at the heart of Fred's – if not Fred's herself – but the goal is grander, more noble. "If anything, I want my legacy to be a place where people have a respect for each other and create really beautiful food." She references Sean's Panaroma several times as we talk. "I'd love Fred's to be iconic in the way it is, still busy to this day and just adored, whether I'm here or not."