Keep your eyes on Khanh Nguyen, head chef at Melbourne's Sunda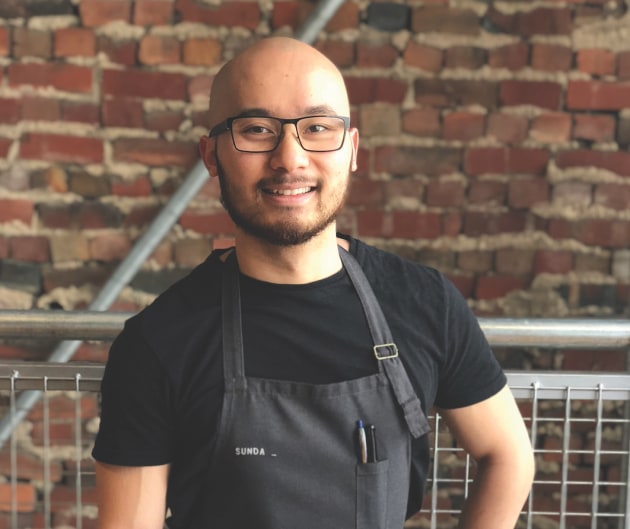 It took a lost phone to set Khanh Nguyen on his creative quest to look anew at the South-East Asian food he had grown up with. Now, notes Jill Dupleix, he's the one to watch at Melbourne's Sunda – both for a modern Asian menu that sparks and fizzes with ideas, and for his outspoken commentary on hospitality culture.
The staff meal at Sunda must be one of the big perks of being on the payroll.
Take last Saturday's roast pork belly with braised borlotti beans and a snow pea and green pea salad. "Yeah, it was pretty nourishing," laughs Khanh Nguyen. "But people want to feel appreciated, and as the owner, you have to be genuine about it, and not fake."
It's rare to find a chef as young as Nguyen (who starred in the national 30 Under 30 Award in 2018), caring that much about staff nourishment, but as he posted recently on Instagram, gone are the days when you think you're too in-the-shit to eat. "It's so bizarre how chefs feel guilty for sitting down and eating," he says.
Growing up in a big Vietnamese community in Sydney's Marrickville, Nguyen knew he wanted to be a chef in Year 10. He worked as a casual at McDonald's and Subway, then reckons he had countless interviews, trials and rejections before Mark Jensen of the one-hatted Vietnamese Red Lantern in Surry Hills took him on as an apprentice and became a mentor. 
From there, it was to Justin North's Becasse; Dan Hong's opening team at Mr. Wong, then Noma Sydney (where native ingredients were added to the dream menu growing in his mind) and Brent Savage's Bentley Bar & Restaurant and Cirrus Dining.
Next came Sunda, and the leap from Sydney to Melbourne and from employee to employer. "I just thought if I don't think I am ready now, then I will never be ready," he says.
The 78-seat, Punch Lane restaurant, backed by Adi Halim of the Halim Group, hit the ground running. Its brutalist design is a work-in-progress of open scaffolding and timber panelling, as diners at communal tables hoe in to turmeric-yellow roti with house-made Vegemite coconut curry, and wagyu rendang buns, bright with pickled turnip. The Age's Gemima Cody called it "the hottest place to eat right now", and The Australian's John Lethlean "one of the most interesting restaurants in Melbourne today".
It didn't come without a struggle. On a pre-opening research trip to south-east Asia, Nguyen lost his phone, along with nine years of research into Vietnamese food. Undeterred, he sat down and worked twelve hours a day, researching and writing new recipes.
"I wrote up 80 to 100 recipes just prior to opening," he recalls. "And then my laptop got stolen, and I had to work with the little I had left."
It's the reason he appreciates his team so much. "They worked through it with me and supported me," he says. No wonder those staffies are so good.