INSIDER: The Changing Face Of The Australian Kitchen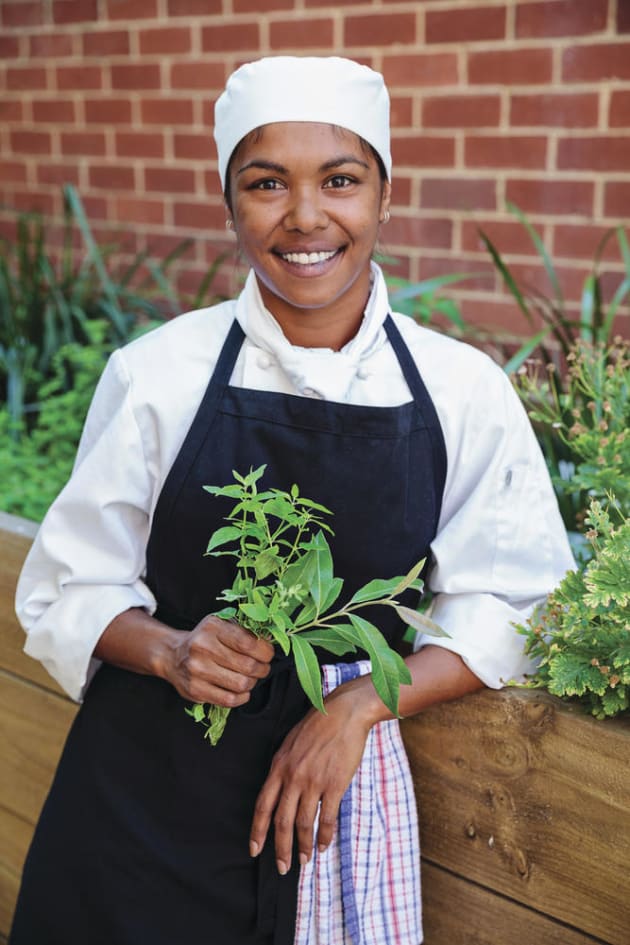 As more and more chefs convert to the intriguing and vibrant flavours of indigenous Australian ingredients, our restaurants start to speak of who we are and where we are. There's just one thing we still need to address, argues Jill Dupleix: the lack of Indigenous people in our kitchens.
Whether you order seared kangaroo, wilted warrigal greens or a lemon myrtle gin and tonic in a top Australian restaurant, you can pretty much guarantee the ingredients were harvested by whitefellas, prepped by whitefellas and cooked by whitefellas. That's just… weird.
So let's not stop at including indigenous ingredients in our restaurants; let's keep going and include Indigenous people as well. We see a generation of Indigenous actors on screen, we cheer them on sports fields, we hear their stories and song lines through art, music and dance. But we don't see too many of them busting out great coffee, writing cookbooks, winning chef hats, and being invited to speak at food conferences.
Forget about trying to single-handedly clear the dark shadows of Australia's past treatment of our First Peoples. You can't. But you can do a couple of small things. Read a book that will update the racist rubbish we were taught about Aboriginal history and culture at school - Bruce Pascoe's award-winning Dark Emu: Black Seeds, perhaps, or John Newton's The Oldest Food on Earth. You can make Australia's unique spices part of your everyday eating - put native Tasmanian or Dorrigo pepper next to the sea salt or inland river salt on your restaurant tables. Seek out and support Indigenous-owned produce suppliers such as Adelaide's Something Wild for native greens, game and traditional meats. Treat your diners to a collaborative dinner with an Indigenous chef such as Mark Olive of Black Olive, or Clayton Donovan of ABC's TV cookery show Wild Kitchen. Dine out yourself on the native flavours at Mission Australia's Charcoal Lane in Melbourne's Fitzroy and see on-the-job hospitality training in action. Explore the idea of Indigenous cultural awareness training – you can even do it online with Todd Russell's new CAT Online initiative.
There is, of course, one big thing a chef or restaurateur can do, and that's take on an Indigenous trainee chef. The industry-driven National Indigenous Culinary Institute (disclaimer: I'm on the Board) is a three-year training program with TAFE at William Angliss in Melbourne and Sydney. Thanks to the support of Australia's finest chefs and restaurateurs, NICI currently has trainee chefs at 28 top Australian restaurants, including Rockpool Bar & Grill, Spice Temple, Guillaume, Vue du Monde, Chiswick, Catalina, The European, French Saloon, China Doll, Icebergs Dining Room and Bar, and Dinner By Heston. The flow-on effect is huge, for both the apprentice and the host restaurant.
There is much being done already, and there's a long way to go. It's about recognition and respect; about small acts of reconciliation through our shared love of food and hospitality.
Jill Dupleix is a food writer, editor, cookbook author, restaurant critic and co-Director of Australia's Top Restaurant.