Drinks With Chefs founder Alanna Sapwell talks passion, hospitality and failure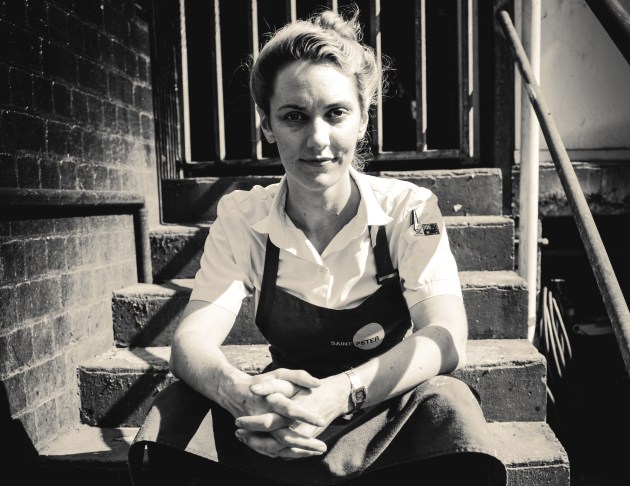 Drinks With Chefs returns on Monday October 15 for its fourth session. A 'hospitality industry meeting of minds', founder Alanna Sapwell (the former head chef of Saint Peter) has put together a superstar lineup of industry experts to discuss 'How I failed successfully'.
Joining Sapwell onstage at Sydney restaurant ACME are Kathleen Davis (founder Nip of Courage), Victor Liong (chef/owner Lee Ho Fook), Naomi Lowry (head chef Culina et Vinum), Matt Stone (co-executive chef Oakridge) and Mitch Orr (Acme).
Foodservice caught up with Sapwell to ask her how she came to join the hospitality sector, why she founded Drinks With Chefs, and what we can expect from the industry-only session.
Why did you decide to become a chef?

When I was nine, I tasted my first traditionally made pizza. I came to the realisation that in this convenience-driven world, we take shortcuts. What we're often left with is a poor excuse of a replica from the traditional form. Why settle? I've spent my career working with the best of seasonal ingredients and taking my time with it, even travelling to the sources and working in places like Italy to ensure authenticity.
What is your philosophy to food?

Food is as emotional as it is physical. I try with my own food to bring the best of both worlds, giving the customer something they can't get at home, yet still trigger those fond memories.
I also want to showcase what Australia has to offer. I believe in utilising everything. Nose-to-tail isn't a new concept but an underused one now that everything is at our fingertips. This doesn't just apply to the protein, but stems to everything on the plate. It's encouraging to see chefs and patrons wanting to support the local trade and realising the importance of one's ecological footprint. I work hard not to forget the importance of the basics and the nuts and bolts of a good framework. I encourage chefs to become more creative with wastage and try to give them the skill-set to be able to cook without gadgets. 
Who has had the biggest influence on you as a chef?
David Rayner and Josh Niland. As an apprentice, Rayner taught me the importance of the basics and working within your local environment. He gave us the responsibility to write and create our sections' menu on the daily.
In a similar format of great produce and daily changing menus, Josh challenges me to rethink how we can tackle waste from within the kitchen, as well as leading by example of how to run a restaurant and manage a kitchen full of bright and talented chefs.
In your opinion, what is the biggest problem facing the industry today?
Training! From the shortening of apprenticeships to the physical practices of real cooking (being able to cook without the aid of gadgets) and teaching of the fundamentals from within the workplace, combined with major TV influences that give an unrealistic outlook for the next gen of chefs. Through Drinks With Chefs I'm addressing this issue. I want to show that it's not a quick climb to the top, and ideally give credit to the success stories and the realism behind what it has taken to get there.
You founded Drinks With Chefs in 2015, where did the idea come from?
I wanted to create a platform for chefs to be able to showcase how they would like to steer the Brisbane food scene. With the belief that it always stems from the top, I gathered the influencers of Brisbane's hospitality scene and created an environment where we could mentor one another and create a stronger community within our industry.
How has it evolved over time?
I founded it but its not a one man show. The whole concept was to be a collaborate effort and was only possible by everyone chipping in.
What impact do you hope Drinks With Chefs will have on the industry?
It's healthy to step away from the day-to-day grind and re-look at the bigger picture. Each event we look at a different issue in the industry, gathering a diverse panel to give a well-rounded and balanced overview on the subject. We've set it up as a non-for profit, so it's approachable not only for the leaders of the industry but the next gen as well.
What will your panellists be talking about on Monday?
Matt Stone (Oakridge) will discuss early success and patience, Kathleen Davis (Nip of Courage) will address hardship for isolated Australian distillers, Victor Liong (Lee Ho Fook) will look at how failure can occur even in the best conditions for success, and Naomi Lowry (Culina et Vinum) will focus on health, cancer, and industry support.
What have the previous Drinks With Chefs sessions covered?
The last event took place in Queensland and was dubbed 'Wasted'. We put everyone on a bus - not aware of where they were going and took them up to the Blackall Ranges to The Long Apron. Teaming up with Bee One Third, we made some mead for the ride whilst Jack Stone (Bee One Third) gave us insight into the disparity between mass-producing companies and small-scale outfits, creating a great buzz for things to come. Once we arrived there were talks from scientist, foragers, pioneers of the Good Fish Project and forward-thinking farmers, all the while the team of chefs were serving up food that utIlised waste from within the kitchen.
Over your career, how have Australian dining habits or tastes changed or evolved?
In the last few years the general public is becoming more aware of food, and good food. I have a great respect for molecular food but its not something you want to eat every day. I see the focus now lies on middle class food- simple, produce driven and most importantly, darn tasty.
DRINKS WITH CHEFS
SESSION FOUR: How I Failed Successfully
Date: Monday October 15, 2018
Time: 2 - 5.30 pm
Location: ACME 60 Bayswater Road, Rushcutters Bay NSW 2011
Cost: $80. Includes a drink upon arrival, snacks and talks. And upon entry, attendees are entered into a draw, which will allow 15 guests to enjoy a degustation menu by Sarah Knights, Jaclyn Koludrovic, Luke Burgess and Hanna Leinonen.
 For tickets or further information, please visit eventbrite.com.au/e/drinks-with-chefs.