Chef Zach Green on celebrating wild and native ingredients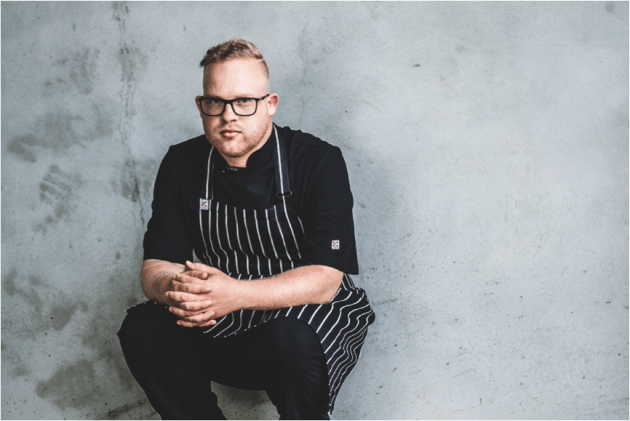 Over two nights this month, Cockatoo Island, or Wareamah as it is known to the Eora nation of the Gadigal, Wallumedegal, Wangal and Cammerayal people, is transforming with a collaboration between Darwin restaurateur and chef Zach Green and Fremantle's Don Tapa.
Celebrating wild and native ingredients together with South American techniques and flavours, 'A Night at Wareamah' will take place at pop-up hotel, restaurant and bar, Contained, featuring a six-course degustation, a smoking ceremony and a 'Welcome to Country' to honour the traditional owners.
Foodservice caught up with Green to get the low-down on this exciting event.
Why did you want to become a chef?
I became a chef because it was a way I could be myself. During my late teens and early twenties it often felt like the outside world was crumbling down, and being a chef allowed to me to grow as a person. It allowed me to breath and be happy within myself.


How would you describe your approach to cooking?
My approach to cooking is that everyday is a new day in the kitchen - it's exciting to work with new flavours.
I am totally committed to expanding my knowledge of ingredients from the different indigenous communities I visit in Australia.


What are some of your favourite wild and native ingredients to cook with, and why?
My favourite wild and native ingredient would have be saltbush dukkah because of the flavour it brings to proteins and also Tasmanian pepperberry because myself being a Tasmanian Aboriginal it connects me to my family and allows me to use an ingredient that has been used by my ancestors.


What is the philosophy behind the Don Tapa collaboration, A Night at Wareamah?
Toly Mazhov co-(owner of Don Tapa) had been talking for a few months about collaborating and fusing indigenous ingredients with South American flavours. So the 'A Night At Wareamah' was really the icing on the cake as we being able to blend these flavours together and make a unique night celebrating the indigenous culture of the island.


Why was it important to you to be involved?
To do a pop-up restaurant on Cockatoo Island was really important as it helps give indigenous people from Eora Nation a platform to share their stories through food. The night isn't about me, it's about the strong indigenous culture around Sydney and how we can share that through food.


What are some of the dishes that will be on your menu, and why?
Crocodile laksa - the crocodile is my totem in North East Arnhem, so it's important for my family and I to share the crocodile story through food and show how significant the crocodile is to our family.
Salmon in coconut cream - I'm an ambassador for sustainable salmon in Tasmania where my grandfather comes from, it was perfect option on there, because I'll be able share why salmon farming is having negative impact on the coastline of where my family continues to live.


What do you hope visitors will get out of A Night at Wareamah?
Offering a different insight into the complexities of indigenous culture and how this year is offering a perfect opportunity to learning about the indigenous culture through food.


What is the Elijah Foundation? What impact do you hope it will have on indigenous Australians?
Elijah's Foundation is just getting started. We haven't launched anything formally, but Elijah's Foundation is about supporting young indigenous people from remote communities who want to become chefs. It's about giving them that support so they can become chefs, showing them that all you need to is ask if you need some help within the industry.


Who has had the biggest impact on you as a chef?
My family, I've learnt so much from my family when it comes to the food and the origin of the food.
Also my mentor Megan Knapp, she instilled so many great insights into how to become a chef and not to rush – just grow gradually. She's been the one that I've always gone back to if I need to get something off my chest. I worked for Meg at the Abom Café on Mount Buller early in my career – in fact my first job.


What one ingredient is always in the cupboard?
Garlic, I always need garlic in the cupboard or fridge.


What is your current kitchen obsession?
I don't really have an obsession – but I am passionate about perfect knives.

Over your career, how has Darwin's dining scene changed and evolved?
Darwin's dining scene is on the rise. Darwin is a nationality hub and the chief influencers are indigenous and Asian ingredients, both of which abound in the Top End. People need to go there and see it.

What's next for you?
I am doing another pop up in Townsville on 22 March; a Top End food tour on 22nd April; opening my restaurant Elijah's on 28th April and I am an Ambassador for the Taste of Kakadu Fest run by Northern Territory Tourism from 18th May.

For further information, please visit A Night At Wareamah.