Chef Josh Niland talks career pathways and mentors with Luke Mangan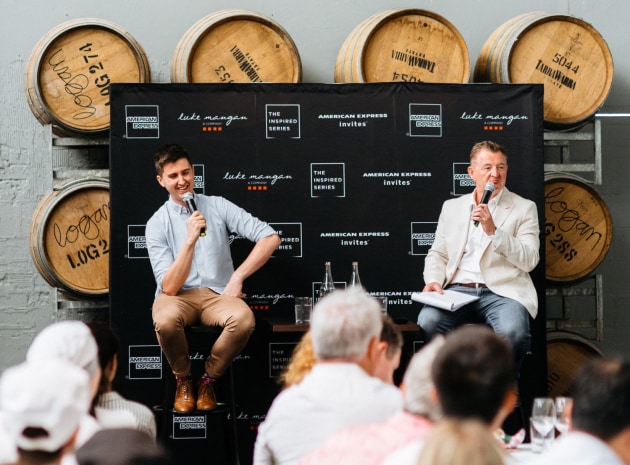 The final session of the year for Luke Mangan's Inspired Series took place at the chef and restaurateur's flagship venue MOJO by Luke Mangan last week.
The exclusive event saw Mangan be joined by chef and owner of Saint Peter, Josh Niland, for a Q&A session in front of TAFE and William Blue Hospitality College students and teachers.
The pair discussed Niland's introduction into the industry, his career path and the importance of finding a mentor.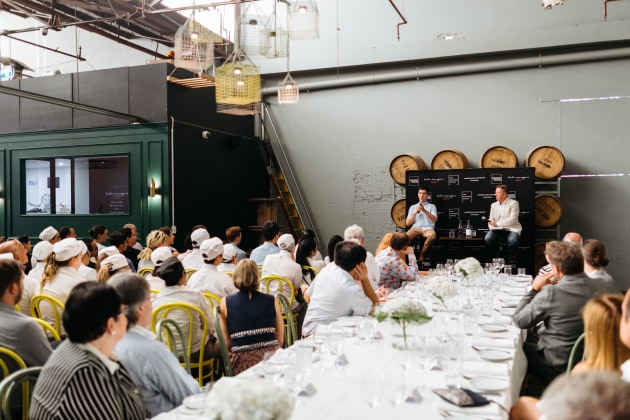 Luke Mangan: Tell us a little bit about your journey from how you started to where you are now. Cooking, you started young?
Josh Niland: Yes, I got my first job in a cafe when I was 14 and 9 months when it's kosher to get a job I suppose. I worked in that cafe for about 12 months. I was washing dishes and making coffee and running food and doing anything to get my hands dirty, basically. Scrubbed the mats and floors at the end of the evening for an extra 20 dollars, which was good. And then I told mum and dad that I really wanted to start my apprenticeship and I wanted to cook.
There was an option to do two days as a school-based apprenticeship throughout years 11 and 12, where I would do two days of practical cooking in a kitchen but then as well I had the option of starting full time.
I started cooking a couple days before I turned 16, and worked in a restaurant in Newcastle. Having grown up in Maitland, I worked in the kitchen in Newcastle for about over a year. And, that was under a husband and wife partnership there.
It was a model kind of restaurant and one that I still hold in high esteem because it really gave me some good basics like how to make mayonnaise and how to crumb a piece of fish, like apply egg wash and bread crumbs. Basic things like that I think, often times get missed, perhaps in some of the training that happens. So, it's very important that I started there.
During that time I got to meet people like Peter Doyle, from est. Restaurant. And Neil Perry and lots of people like that along the way.
And what that did was kind of just poke my head out into what was happening in Sydney. So then I started eating out a lot by myself. I'd get a train on my day off and go check out what was happening in Sydney. And I ate by myself, basically, in these restaurants. And, kind of be looked at quite curiously. I still look fairly young, I think. So back then I probably looked even younger. Like a ten year old having a 12 course tasting menu.
I made another trip to Sydney to eat out and around. And the hottest and best thing was Luke's glass brasserie. And so I went to Glass and I think I sat down with 11 and I left at about four o'clock in the afternoon. Having just sat right in the front corner.
Luke came over to my table maybe an hour before I left and said, "What do you think?" And I was in awe and I said, "I'd love to work for you." And so we organised a trial. And so, from there, developed a relationship. I started the second year of my training at glass brassiere. Under Joe Pavlovich who is an extremely good friend of mine.
And Luke really mentored me along the way. I think I was about four months in, there was a little patch where I became impatient of being on pastry because, at the time, I was doing bake cookery, fish cookery, all these things. I was on pastry and I felt like it was a back step., like, I really wanted to be with the boys.
Luke said to me, "Rome wasn't built in a day." And so, those kinds of conversations that happened along the way really impacted my choices and decisions that I've made. And working for extremely good chefs like Luke and like Peter Doyle and Stephen Hodges have really helped me form my style of cooking and also the way I treat people in the kitchen.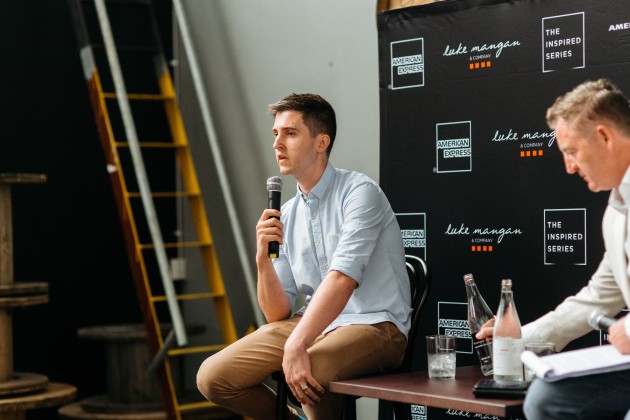 LM: Looking back at what you've done and how you've done it, would you have wanted to spend more time with certain places to learn more or do you feel that you've been patient, which is a good quality and a bad quality I hope.
JN: I had this conversation with Julie last night saying I kind of want to touch on it so it's probably getting brought up. Julie is my wife. We were saying, would I do things differently again and I think, in hindsight, maybe I would. I would've wanted to spend a little more time at glass. A little more time at est. But, in saying that, maybe I wouldn't have achieved what I have now. But, always in my head, I've had something that I wanted to achieve and if anything was in my way or felt like it was holding me back, I would punch through it and go and do it the way that I wanted it done.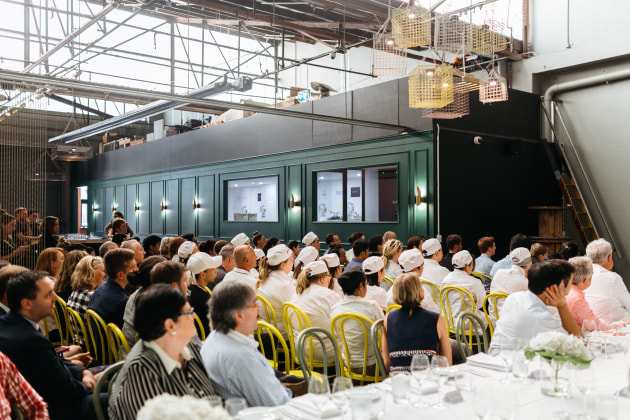 LM: You did some work with Heston Blumenthal in his development kitchen. How long was that for? And how was that experience?
JN:That was a four month development. It was amazing. It was a working honeymoon. I had just gotten married and I went there looking to use liquid nitrogen and all the bells and whistles and fluff that he does. And, then, arriving there on the first day they said, "Okay. You're going to be working on Heston at home cookbook." And I was like, "God. Domestic cook. Wonderful."
But it was the best possible thing that could've happened because, for a month I studied eggs. For a month I studied chocolate. For a month I studied cakes. And then the last month was back to eggs.
I think the lemon tart at Saint Peter is popular because I had to make three every day for three months. So, it was a very good experience and one where I got to rub shoulders with what's perceived as the best restaurant in the world. And that, being around those people and that kind of creativity and thinking was very inspiring.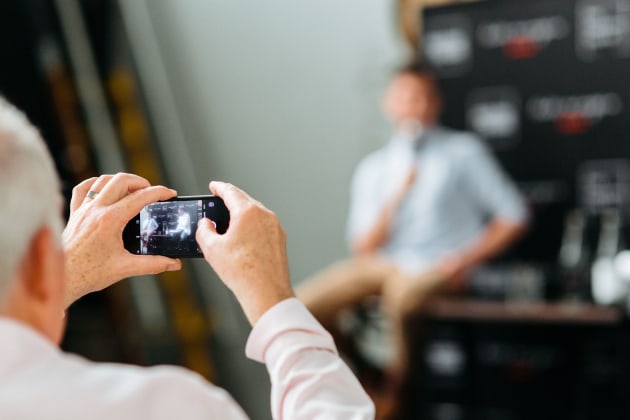 LM: You've travelled quite a bit through France and Spain. How important, do you think, travelling is for a young chef or a young student today? Do you think that's important nowadays or do you think that we in Australia have a lot where they don't need to go and travel?
JN: I think we're extremely lucky here in Australia. We're spoiled from the restaurants that we have on offer on both an entry level and then an extremely high end. We, in my opinion, almost exceed what's available overseas. The calibre of food and chefs and creativity and thinking that happens here is just outstanding.
My wife and I both love everything about what we do here. There are moments over there where it's amazingly inspiring but we're very lucky here. But, I think the important thing about travelling is eating. That's probably the one thing that I would say. You don't have to work in every kitchen for half an hour. You can go and eat in all of these restaurants and take something out of it that you love. I think that's where I gain most, just by eating in a chef's restaurant.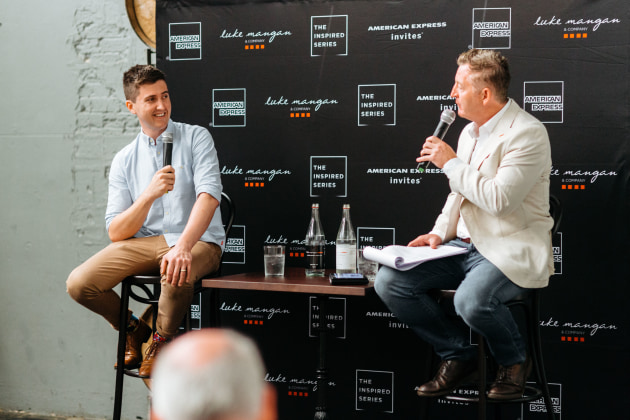 LM: You've achieved so much at this stage now. What have you, if anything, had to sacrifice to get where you are now?
JN: I've got two children. One just turned four yesterday. My daughter's two. I think, one of my biggest fears is them not having a memory of their dad at a young age. So, that's a constant battle of compromise, I suppose. I need to be able to give my time to both the restaurant and to my kids and my wife. And I don't want to become a statistic of the chef that had four or five wives and never had time for anybody. I really try to juggle my time. But that is a sacrifice not being there when they wake up or not putting them to bed.
LM:You talked about, before, mentors and things like that. For young students who are starting out and wanting to be you, do you think mentors are important and what can you learn from them?
JN:The thing about mentors, they will always be there, they will always pick up the phone. And they will always have a conversation with you about anything. Whether that's on a personal level or on a business level. Like, since opening a restaurant and looking out for a business as well as cooking, I've had to make a lot of phone calls to people about things that I feel nervous about.
Even people I've never worked with have put their hand up as mentors. There's abig family of chefs out there and they all want to see you succeed. So mentors are extremely important in an industry that's really difficult and very laborious. But, it's very rewarding on the other side of that. It might seem difficult up front but behind that it's an amazing experience.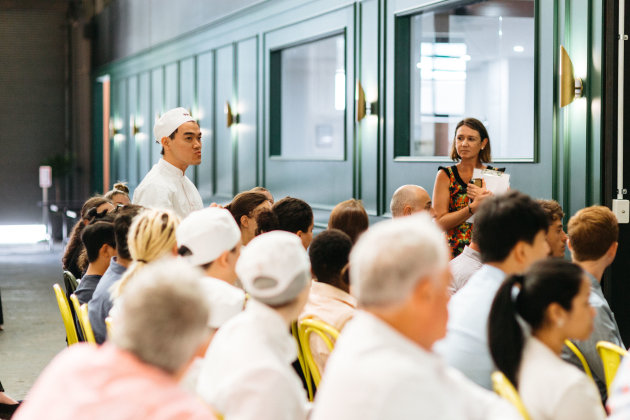 LM: If there's some young kids in the audience who are thinking of ending their apprenticeship or giving up in the industry because it's too hard, the hours are long and the pay is terrible, as you know. What advice would you give?
JN: Like I said, we're very spoiled in Australia. But let's talk about Sydney. But we're very spoiled in Sydney for the amount of restaurants that we now have at both the cheaper end and the more expensive end. And there's so many of those chefs that have come out of these juggernaut restaurants. And they're all trying to create better environments now.
So many of my friends now that have restaurants from what I know of them and from the staff that work with them. They're creating environments now where you have a part of your life back and you can go have a weekend off every now and again. The industry's evolving really quickly and we're modifying our businesses for the younger guys coming through.
When it is hard it's probably really bloody hard but you've got to stick with your guns. Because there is good things that will happen. And don't be as impatient as me, I suppose. And just focus and you will get there. Find a mentor. Find friends that are in the same situation and keep conversing about what's happening. Instagram, social media, all that stuff is so engaging and instantaneous and that's inspiring in itself and it should help you through little moments. I think there's just so much potential in the hospitality world. And society changes everyday.
Luke Mangan partnered with American Express to host the Inspired Series with Josh Niland on Thursday November 30. For further information, please visit lukemangan.com/develop/theinspiredseries.