Charting Atlas: Inside Charlie Carrington's revolving restaurant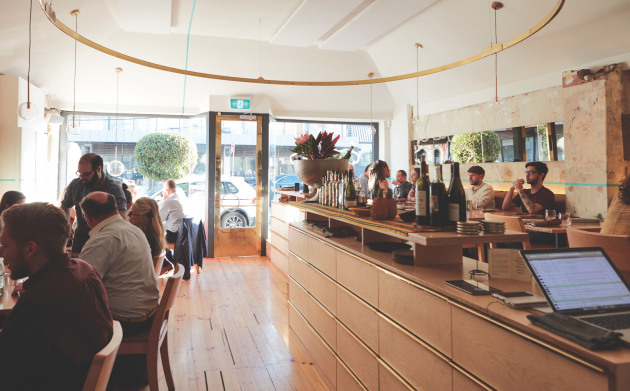 Charlie Carrington is a global explorer. At his degustation restaurant, Atlas in Melbourne's South Yarra, the entire menu and cuisine get overhauled every four months. Tim Grey met the ambitious young chef who created this ever-changing restaurant, and found out that the revolving menu is good for business.
When I first met Charlie Carrington in 2016, the story hook was irresistible: 22-year-old chef opens restaurant that changes cuisine every few months.
But two-and-a-half years later, neither Carrington nor his degustation-only restaurant in Melbourne, Atlas, are gimmicks. They're both prescient examples of a new age of dining and a new generation that understands how to engage future diners.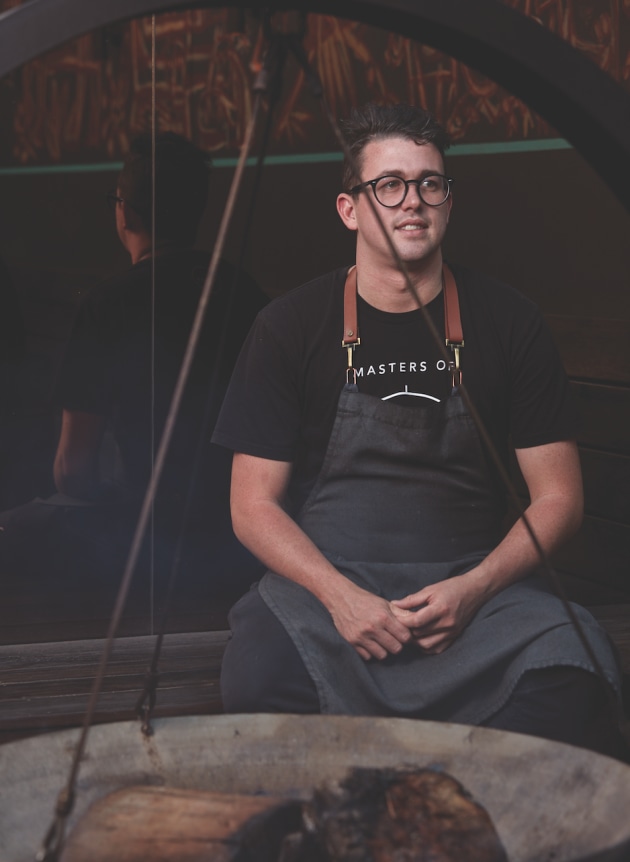 Carrington travels three times a year for Atlas, each trip generating a whole new menu, based on a whole new cuisine for the team to learn. And not only does all this travelling bolster creativity, it's good for business too. This revolving restaurant, as it were, solves one of the biggest problems bedevilling set-menu venues: return business.
At most fine-diners, guests rarely go back for round two after they've had their special-occasion meal, no matter how brilliant a 12-course extravaganza is. And food writers are no different, as we tend to ignore a restaurant after its first year. Atlas however gives customers a compelling reason to return every four months, and gives journos something to write about.
"Everyone is guilty of wanting to try the next best thing, which is great, but this concept gives people a big incentive to come back," says Carrington. "And even if they didn't enjoy it. They might have hated our Korean menu, but they'll come back and try the Peruvian menu. It's a get out of jail free card."
Atlas even issues passports to diehards, which get a new country's stamp for every menu. "A lot of people collect them, and have every [stamp]," says Carrington. "That's insane when you think about it, we've created a restaurant where people must go."
In his early career, Carrington took ample advantage of the stagiaire, a French tradition that sees young chefs volunteer in kitchens to gain valuable experience. In today's hyper-competitive industry, a month or two at a Michelin-Starred restaurant can make a real difference to your curriculum vitae.
But often overlooked are the creative benefits of said mentorship; it's an opportunity to open one's mind to something totally new.
"Honestly, it's career defining," says Carrington. "I would say it's one of the most important practices for anyone. Working internationally, going and meeting all these new people, it just gives you experience you wouldn't get otherwise."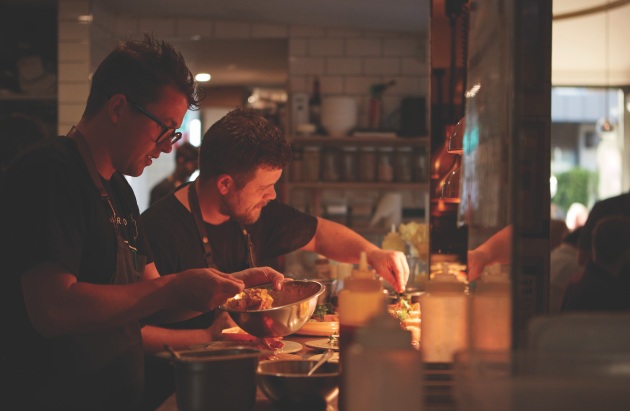 After spending eight months travelling and working in top-shelf establishments in Antwerp, San Francisco and Mexico City, Carrington wanted to institutionalise the practice. So, he hit on a wild concept: to open a restaurant that operates as a kind of culinary travel journal, a place whose degustation menu constantly changes to reflect the countries where he'd cooked and eaten. Thus Atlas began.
It kicked off with a Vietnamese tasting menu inspired by his visit to the hills of Sapa. Four months in, Atlas paused for two weeks while Carrington visited Israel to research a suite of new recipes for his second menu. Since then, the restaurant has cycled through eight 'destinations', closing 2018 with Brazilian, and opening the new year with Thai, which is in residence from January 9 to May 12. "The trips are all about getting inspired," he says. "I designed the business in a way where I could go overseas every four months and then to come back and teach myself something with the help of my whole team. I feel like we're teaching ourselves to cook a style of food, but then our customers or our guests are trying it, and then they're learning something too."
Atlas aims to deliver an affordable, accessible version of the degustation experience. Five courses ring in at $60, while six come up to $75.
Carrington wasn't the first to notice the trend to more casual eateries, while overall dining out increased. But his solution was to find a middle ground between fine and fast, where diners can afford to come every few months. "People are looking for somewhere where it's not going to break the bank, but somewhere they love the food and the service and the whole experience," he says. "If you spend $400 [on] one night, you can go out … once a month. But if you spend $100 four times, then you can go out four times as much."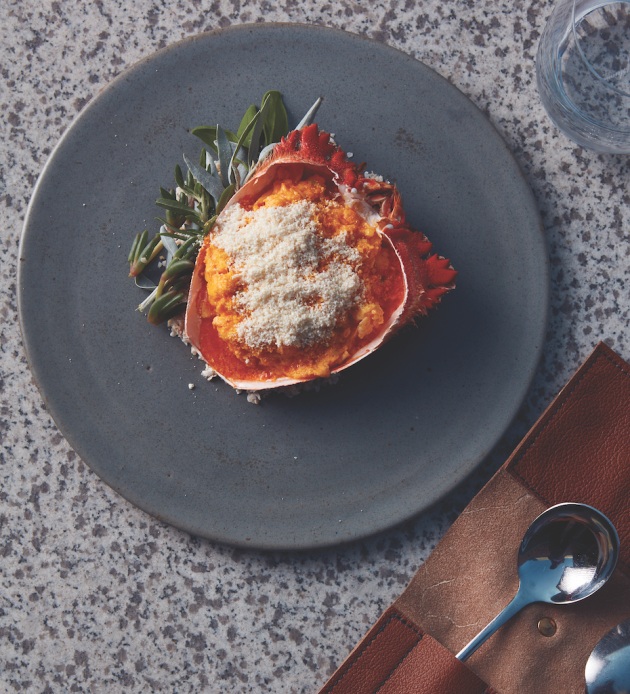 Instead of cooking dishes with marron or caviar, (as each plate costs the customer just $12) the Atlas team does what great cooks have been doing for millennia – using technique to transform less-coveted produce. The primary tool that Carrington has at his disposal is a wood-burning fire – an element he learned to control under the tutelage of Firedoor chef-owner Lennox Hastie. Using said fire, and his classical training, the current cannon of dishes is simple, with just a few elements on each plate. There's pork neck massaman; duck egg with morning glory, coconut and lime; red quail curry; and a dessert of fried golden egg yolk threads.
While Carrington had already racked up some serious experience in kitchens around the world before running his own, the fiscal realities of running a restaurant was something he didn't have. "I don't reckon anyone has ever opened a restaurant before with less financial idea than I did," he admits.
Still, at the tender age of 22, Carrington could be forgiven for not being prepped for the role of team leader, human resources manager and CFO, as Atlas is his first ever whack at the head chef title.
Going feet-first worked out to be a pretty solid strategy. Atlas opened to both glowing reviews and a public fascination with the young chef's audacity.
Within a year, to Carrington's surprise, business was booming. But for a guy perpetually on the move, he was ready for a new challenge. "It's one thing to be a chef, which is a really fantastic career, but it's also nice to, once you've started a restaurant and you've had a lot of success with it, then take it to the next level," he says.
So he and his brother (also partner at Atlas) opened a second diner, Colours, across the street. The more-accessible version of Atlas plays the hits from the restaurant's ever-changing menu in a casual setting.
With Colours, Carrington joined an ever-growing roster of name-brand chefs trying out 'fast-casual': Scott Pickett, Shane Delia, George Calombaris, Shannon Bennett, Neil Perry et al. Despite all the industry hype around the category, Carrington had discerned that there was still a significant gap in the market. "I genuinely believe that very, very high-end dining is slowing down quite a bit.
People are looking for UberEats at home, they're looking for really quick, casual experiences, or they're looking for places like Atlas," he says.
Despite the obvious attraction of the fast-casual formula, achieving fine-dining standards in a takeaway setting isn't easy. While dishes can be simplified and the level of service can be reduced, there are only so many corners that can be cut before quality is sacrificed. "We had to figure out the model," Carrington explains. "How do you serve food that's quite inexpensive while maintaining standards, paying staff directly, [getting] enough people there, and [serving] the food quickly so they like it?"
One major challenge with fast-casual, is that it's, well, fast. Diners come in and out of the restaurant without hanging around to empty their wallets on added-value items, like wine. "You're not really selling booze," Carrington says. "At Atlas, you could get a group that comes in and they could spend $1000. At Colours, you might have a group of six come in and they spend $70, but they all sit there, enjoy their food, chat."
Nevertheless, it's a challenge Carrington is ready to rise to. He already has plans to open two more editions of Colours later this year, and intends to take both brands overseas. "I definitely want Atlas to be global. I really want to make the idea that a cheap set menu has a context and take that to the world. I think that's something that no one has done before. And that's something
I really want to pioneer," he says. "I think I just like a challenge, and I want to see how big we can grow."
Given the scale of this 25-year-old's ambition, the world is his oyster.
This article was first published in foodservice's February 2019 issue. To subscribe to foodservice's monthly print magazine, click here.