Big fish to try at Darwin restaurant Hanuman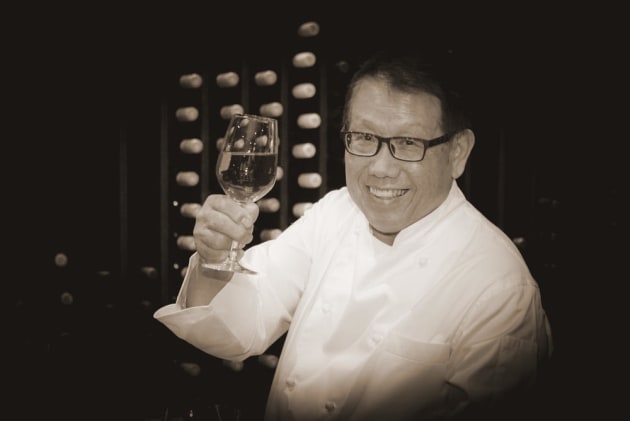 Jimmy Shu won his first chef's hat in the national 2018 Good Food Guide – precisely twenty-five years after putting Darwin dining on the map with his iconic restaurant Hanuman. Jill Dupleix talks to the barramundi-mad chef who credits his success and longevity to the fact that he's never too big to do the dishes.


Jimmy Shu grew up in Sri Lanka with a chef for a dad, and reckons he spent most of his childhood in the kitchen, helping out. He arrived in Australia the day before Cyclone Tracy hit Darwin, in 1974, and settled in Melbourne to open his first restaurant.
Two pioneering restaurants later – the modern Thai Isthmus of Kra in South Melbourne and Monsoon in Melbourne's CBD – and he needed a source for his beloved wild barramundi. Fate led him to Darwin in 1989.
"I found the one person, Billy Boustead, who was perfecting the art of breeding silver barramundi in the wild, in a series of tidal pools," he says. The superior quality of this indigenous saltwater fish, combined with the brilliant diversity of Asian greens and the crazy, frontier-land mix of cultures and cuisines in the Top End appealed to the adventurous chef instantly. Selling up his restaurants in Melbourne virtually overnight, he moved north.
"I am a bit of a daredevil," he says. "I love challenges. I don't like to be comfortable." The first two years were the hardest, with so little turnover he had to walk to work and back. "It was a real struggle," he recalls.
Twenty-five years later and Shu is sitting pretty, with his uniquely Darwinian fusion of Thai, Nonya and Tamil dishes and magnificent wine list in high demand at Hanuman Darwin and, more recently, Hanuman Alice Springs. Crowd favourites are the famous Hanuman oysters in a warm, sweet-and-sour bath of lemongrass, Thai basil, ginger, chilli and coriander, and a turmeric-stained meen mooli coconut curry of (wait for it) wild barramundi.
When news of the chef's hat – the only one awarded in the Territory - was announced on October 16, he says he felt numb. "As the day went on, and I had so many messages of congratulations from colleagues here and overseas, I realised what a great honour it was," he says.
Because it was the first year the Good Food Guide had expanded from its Melbourne/Sydney/Brisbane heartland, he had to explain its significance to his staff. "A chef's hat is the equivalent of a Michelin star" he told them. "You earn it purely on merit and performance."
Shu credits his kitchen and front of house teams for the award, and hopes that the Australian government will reconsider changes to the 457 Skilled Occupations visa, to enable him to continue to run his restaurant at the highest level.
"My head chef Syed Nainar Ali Muhammed has been with me for fourteen years," he says. "If we cannot get people like that to come here and do their best work, we will all suffer."