Award-winning Johnny Di Francesco On Being The Only Aussie Trained in AVPN Pizza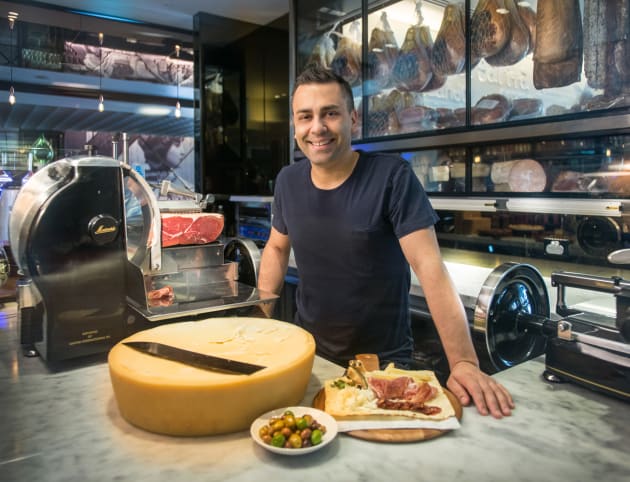 Johnny Di Francesco is the award-winning pizza maker behind Melbourne's 400 Gradi. Being crowned the Pizza World Champion is not the only accolade to his name; to date he is the only Australian to train in Naples at the Associazione Verace Pizza Napoletana. Clearly pizza is in his blood.
What inspired a career in food?
Believe it or not, a pair of sneakers! When I was 12 I really wanted a pair of sneakers and the only way I could buy them was to work for them. I started as a dishwasher for a pizzeria, and after a few years I moved to working with the food, but it wasn't until I was at university that I realised the passion I had for pizza. I ended up leaving to focus on pizza-making full time. Preparing the dough, cooking the pizzas and creating authentic Italian food had me hooked, and I haven't stopped since.
What drives your cooking and your approach to food?
Tradition – I love that Italian food is steeped in history and culture, and that the ingredients are as much about honouring culture as they are about flavour. We approach our food with authenticity at Gradi, and use the very best ingredients possible to make sure that what goes on a plate is something we're proud of.
As the first Australian to train in Naples at the Associazione Verace Pizza Napoletana, what did you learn?
I learned the importance of tradition and culture, and to never compromise on quality. The training is very intensive; there are lectures, they take you to flour mills and mozzarella producers and you spend hours upon hours making pizza under the supervision of master pizzaiolos. We also went to work historic pizzerias throughout the city, and in a city where the volume of flour used has to change daily depending on the level of humidity in the air, you really do see firsthand how much of an art creating a Neapolitan pizza is.
You founded the Melbourne-based Gradi Group in 2008. What were some of the challenges in the early years?
I opened my first pizza shop at 19, but didn't found the Gradi Group until much later. When I opened 400 Gradi in Brunswick, I had learned a lot of really hard lessons. Challenges are a natural part of a business – especially in foodservice. Finding the right staff, ensuring consistency in the quality of food and complying with safety standards, all while keeping afloat financially, it was a challenge! However by surrounding myself with the right people from the start, it made things a lot easier.
How has your food and restaurants evolved?
My food has always kept the same authentic, Neapolitan flavours to it – from the first pizza made in 400 Gradi to the pizzas being made now, nothing has changed! As we've grown in restaurants we've added more dishes and expanded our offering, but it's the same passion behind everything we do.
How did it feel to win the World Championships at Campionato Mondiale Della Pizza in 2014?
Winning the title is one of the greatest moments of my life and a real career highlight. It felt – and definitely still feels – amazing. I will say that there were so many talented pizza makers competing, so I may have been awarded the best on that day, but there were plenty people worthy of the title, and I'm privileged to say I've been able to work with some of them.
The Carlton Italian Festa is the annual event that's set to enliven Lygon Street and the surrounds this month, how is 400 Gradi celebrating the event?
I can't wait for this! This is what the training with the VPN was made for – so that I can bring the authenticity of Naples to the streets of Melbourne. World-class pizza, gelato and the culture will be available for everyone to experience. We'll have two ovens and a gelato ape ready to make plenty of pizzas and serve delicious gelato. All of the Gradi team is excited for this.
What is your favourite pizza to make?
I'm a huge believer in simplicity – so the margherita is my favourite. It's the pizza that won me the world title, but it's also the pizza that is simple, delicious and a crowd favourite, every time.
What piece of kitchen equipment could you not do without?
A wood fired oven! Neapolitan pizzas are cooked to perfection in these ovens, so it's a necessity for me.
What's always in the pantry cupboard?
The ingredients I use for dough, of course, so I can always whip some up. Now that we're coming into summer, I definitely like to eat more seafood – Gradi proudly only uses Australian seafood because we believe it's the best – so I love to have some crab, or mussels or even some prawns on hand, perfect for dinner.
What has been the biggest surprise about the reality of life as a chef?
That there's never a day off! Our restaurants are open seven days and there's always so much going on. You can never switch off.
What would you cook for your last meal?
Without a doubt – pizza! Probably a margherita, although if it's my last meal I might throw on all my favourite flavours on different slices so I can really experience it all.
What trends are you currently seeing in Italian food in Australia?
I've noticed that the awareness and knowledge around what Italian food about is growing. The team at Gradi and many others have worked so hard to bring an understanding of traditional Neapolitan techniques to the country, and now I see it paying off! Consumers are starting to move away from the fast food trends and choose traditional foods more, which is exciting.
What has been the best thing you've eaten this year?
The 99 cheese pizza we did for just a day at all our Gradi restuarants. Is there anything better than 99 cheeses on a pizza? We did it in honour of National Cheese Pizza Day and I loved it.
Why do you think pizza has such an enduring appeal in Australia?
I think it's because pizza is simple to eat and so perfect for sharing with friends. When you're with some mates and you want to eat, pizza is always the favourite option. Italian traditions are steeped in sharing with each other – food, love and community, it's about bringing people together. Pizza does just that, which is why I think Australians love it so much, and why every day at Gradi we are so passionate about what we do.