Ali Currey-Voumard reflects on head chef role at Tasmania's Agrarian Kitchen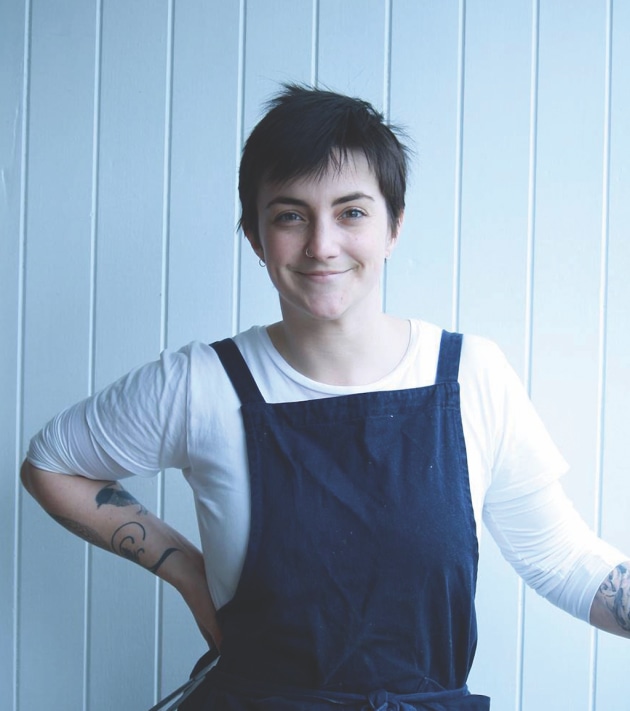 When head chef Ali Currey-Voumard resigned from Tasmania's Agrarian Kitchen Eatery in January, the industry went into a huddle. Had the pressure of winning all those 'best regional' awards been too much? Would the young chef jump up the ladder to a big-city exec job? And what is going to happen to everybody's favourite fried potato cakes? 
Tasmanian Ali Currey-Voumard started cooking at 14 because she hated doing the laundry – those were the two chore choices her single working mother gave her. "I started cooking two nights a week, and really loved it," she says. During her first apprenticeship, local chef Luke Burgess introduced her to Rodney Dunn and Severine Demanet, owners of the Agrarian Kitchen Cooking School & Farm. Dunn offered her a job, so while working weekends there she fell in love with the integrity of homegrown cooking.
Eager to hone her skills, two years later she left for Melbourne at the age of 17 and landed a job at Andrew McConnell's Cumulus Inc., before cooking her way through the city's top restaurants over the next seven years. She remembers the work as being emotionally taxing, and a thick skin was a requisite. "There was still a lot of yelling and screaming going on in the kitchen then," she says.
Heading home to Tasmania with her partner, she was drawn back to the Agrarian, only to discover there were big plans for a restaurant as well. By June 2017, Currey-Voumard was head chef of the new Agrarian Kitchen Eatery in New Norfolk, and life became a blur of wood-firing, hot-smoking, gardening, cheese-making, jamming, fermenting and curing. Somewhere in amongst all that, she also won the Good Food Guide's 2019 Regional Restaurant of the Year, and Gourmet Traveller's Best New Talent award.
So why leave the dream job, the awards and the recognition?
"I've loved every moment of working here, and it was a hard decision to make," she says. "But as the company grew, I had to move more into a management role, when all I really want to do is focus on cooking."
Her next step is abroad. "It was always my plan to travel overseas and work in Europe by 2019," she says. "I really want to see people who are doing simple things with very local ingredients to a high quality, making them mind-blowingly delicious."
Then, she says, it will be back to Tasmania to start a new journey. "I really love Hobart. There's a great sense of community and the produce is incredible."
Currey-Voumard's final service at the Agrarian Kitchen Eatery kitchen is April 1 (hopefully she leaves that sourdough potato cake recipe behind), giving Dunn and Demanet plenty of succession-planning time. What advice would she pass on to the new head chef? "Just be kind – that's why we've kept almost all our original kitchen team intact," she says. "And make sure you have a good giggle, and listen to lots of '70s and '80s disco!"
The Agrarian Kitchen Eatery, 11a The Avenue, New Norfolk, Tasmania. (03) 6262 0011. www.theagrariankitchen.com
This article was first published in foodservice's February 2019 issue. To subscribe to foodservice's monthly print magazine, click here.
PHOTOGRAPHY: ADAM GIBSON