Stevan Premutico on transforming how Australians dine and leaving Dimmi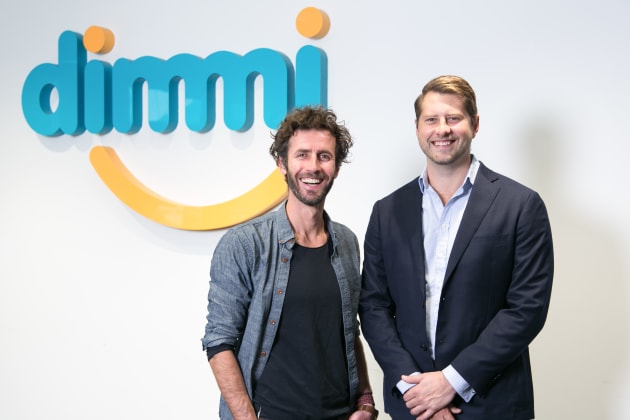 Stevan Premutico helped transform the way Australians wine and dine when he founded online reservations service, Dimmi. After ten years at the helm, he is stepping down to make way for new CEO Jared Chapman, and to begin a new chapter of his life. He reveals to foodservice what this change means for both him and the company.
How does it feel to be stepping away from Dimmi?
It feels so surreal at the moment, but it feels right. On one hand I will miss this business, the team and the industry so much - I love this industry.

On the other hand, I feel like I have done what I came here to do. We are the clear number 1 player, 50 per cent of all restaurants in Australia are now using Dimmi, 20 per cent of all reservations in Australia are via Dimmi and many of the marquee brands that we had been chasing since the beginning had recently switched over to Dimmi including the likes of Rockpool, Urban Purveyor Group and Merivale.

I am lucky that I have found an amazing guy in Jared Chapman who will take Dimmi to the next level.


What's inspired the change in direction for you?
Honestly, I have done what I came here to do - to make the industry better. I am so proud of what the guys have achieved and where Dimmi is at. So I can now comfortably hand over my baby and move on.

You launched the online reservations service in 2007, how have you seen the company change and evolve over that time?
Absolutely and in so many ways.

The biggest one is that consumers now use Dimmi as the 'go to' place when deciding where to eat. In the early days we would be lucky to get a few visitors a day, today we get over 1 million visitors a month.

In the early days we partnered with lots and lots of restaurants, but not so many of the top tier restaurants in Australia. As our product has improved and as our consumer brand grew rapidly this changed and many of the countries marquee restaurants jumped on-board including the likes of Bondi Icebergs, Flower Drum, Urban Purveyor Group, Merivale. We had to adapt as a business and significantly bolster our key accounts team and the investment in our products to support these types of accounts.

Perhaps what I am most proud of is that even though we have changed a lot, grown a lot. We have never lost the bit that made us great in the first place - a relentless desire to help restaurants run a better business.

What were some of the challenges when you were first starting out?
Wow, there were so, so many. To be honest I am surprised we made it through the early days - it was pretty rough. Here are a couple of the challenges:
Restaurants thought we were nuts - they wanted to retain the personal touch of phone calls and they were deeply attached to their old school pen and paper diaries. They were reluctant to change so the first couple of years it was difficult getting momentum.
Running out of money - there were two pretty scary moments when we almost ran out of money. We had a big vision but the revenue was super thin in the early days so we had to find creative ways to get through.
Recruiting the best people - I always believed that the only hope we had of making Dimmi work was by attracting great people to make it happen. Unfortunately great people typically come with big fat salary expectations, and we didn't have that so we had to find other ways to attract them. Instead we focused on what we had that very few others could offer - and that was an ability to work for a company where you could truly make a difference & have an impact on the world.
Retaining the start-up culture - this is hard when you grow but I was always very focused on ensuring we never got complacent, ensuring we continued to innovate rapidly, ensuring our customer service and restaurant support was always the best in the industry.
Keeping sane - without doubt the biggest challenge during the start-up years. Sometimes the ambition and the passion is bigger than the time and the resources, as all restaurateurs will know.

How do you believe the launch of Dimmi has effected dining scene in Australian?
Quite significantly actually. Firstly, I think we have played a significant and much needed role in bringing restaurants into the digital era. 50 per cent of all restaurants in Australia are now using Dimmi for their bookings, 42 per cent of their reservations are made online, instantly, without any phone call or face-to-face customer interaction.

Secondly, I feel we have played a big role in democratising the industry. Before us there were one or two critics who determined the fate of a restaurant - we introduced a more democratic, more transparent and perhaps more honest system with the introduction of verified user generated reviews. There are over 1.2 million user reviews across the Dimmi website which helps consumers choose the right restaurant but also helps restaurants understand how to improve their business.

Finally, we digitised the industry by connecting restaurant availability with demand in real-time to help restaurants fill their tables. For the first time ever a restaurants availability is now promoted across channels like Dimmi, TripAdvisor, Qantas, AMEX, Good Food Guide, Broadsheet and Zomato to help restaurants sell their tables.

What are you most proud during your time as CEO of Dimmi?
My team - without a doubt. We were a small team of 50 who punched far above their weight, never gave in, gave me everything they had, took on the big international gorillas, and never stopped trying to make the industry better. That is without doubt the thing I am most proud of.

Jared Chapman will take over as CEO. What advice do you have for him for how best to champion the industry?

I truly believe that technology can be a saviour for this great industry. In Australia we have some of the best chefs in the world, some of the best restaurants in the world, but we have some big challenges that we as an industry need to overcome - highest labour rates in the world, crazy high rent costs, new visas rules that make our lives so much harder - the list goes on and on. I think the industry needs answers and it needs solutions, and I think Dimmi can be a big part of that solution. So we need to continue to find solutions that tackle these big problems.
Secondly, I think we need to keep challenging the status quo in our industry and keep pushing ourselves. We need to challenge our own thinking for the industry in order to survive and thrive. Continuing to listen to our restaurant partners and driving innovation is at the very heart of that.


What's next for you?
That's the big question I keep getting asked! I will never forget getting out of a cab with my chairman Glen Butler of Macquarie Bank a few years back and he said to me, "Steve there are CEO's and there are founders and they are two very different people. The trick is to know who you are and when its the right time to hand over the baton." I didn't get it at the time, but now I do. I am a start-up guy. I love creating things, disrupting things, improving things from the ground up, not managing things.
I'm going to get back into what I love most - creating something new. I love this industry, so maybe I'll be back again. Let's see.
For further information, please visit dimmi.com.au.