Seven little things hospo workers can (and should) do to help keep producers in business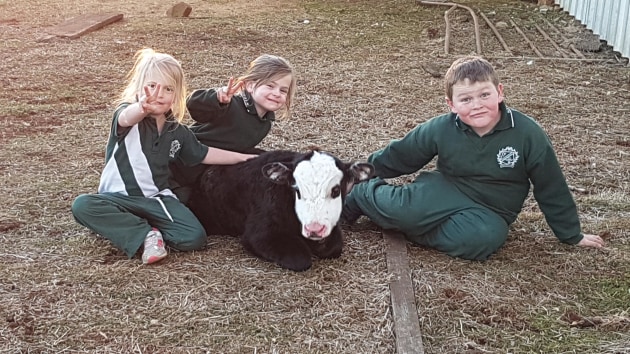 If you think the hospitality industry is getting tough, try the agricultural sector in the middle of a drought. Farmers are making fight-or-flight decisions, buying trucked-in water, selling their stock, and reducing costs any way they can. And still they persevere, supplying chefs – and us all – with seasonal and specialist produce. Jill Dupleix looks at how we can help those at the top of the food chain. 
The image on Instagram was of two huge stock trucks pulling in to a farm yard at Llangothlin north of Guyra – the under-the-radar food bowl of the New England region of NSW. The post, from farmer Lucy Mackenzie of UGoose, cattle farmers and specialist suppliers of dressed free range geese, was resilient, but heart-breaking.
"Today has been a hard day, as 2 B Double trucks arrive to take more of our beautiful cattle away. We cannot keep these cattle here due to this dry [drought], nor can we afford to – due to the ridiculous cost of fodder / feed. Our hearts break, as these are our beloved breeders, our genetics that we have worked years to build.
This scene of trucks coming and going is happening to thousands of Aussie farmers every day. For those of you who are not farmers, it is gut-wrenching to load them on, but easier to do this than to watch them starve in the paddocks. I give thanks for the service of all animals affected by this dry everywhere. Tough decisions have to be made, and we are ones who have to do it. Without our animals, we have nothing".
The effects of climate change and crippling drought are felt by our farmers, growers, suppliers and therefore consumers, and it's the hospo industry's duty to support and celebrate those on the front line.
Name your producer
One of the great recent movements in foodservice has been chefs proudly listing the provenance of their food on their menus. To know that the duck is from the Great Ocean Road, or the cherries from a third-generation orchardist in Young, connects diners with season and place.
More diners than ever now are knowledgeable and passionate about animal welfare, organic, GMO, soil regeneration and even the staff culture and ethical treatment of farm workers, and sharing these stories builds a connection with your diners, as well as your suppliers.
Develop relationships and make local farmers part of your business plan
Are there any cash crops farmers could help you with? For inspiration, look at the delicious Produce Awards for the very best in their field; seek out the winners of the Royal Easter Show; or adopt a region by teaming up with other chefs and channeling funds through to a specific community or area.
Think small
Back the small-scale wholesalers and retailers that support small-scale farmers, such as butchers Feather and Bone in Sydney and Meatsmith in Melbourne. They deal only with farmers who place high value on soil regeneration, responsible forestry, clean waters and happy animals.
Go bush
Mackenzie says she'd love to see more chefs and suppliers go on farm and spend time with their producers every six months or so. "And then, once every six months for the farmer to meet the chef in the city. It would improve the wellbeing of the chef-farmer relationship, and improve the farmers' motivation and love for what they do," she says. Having a yarn over a cuppa or a beer will do that.
Stay in the know
Buy a copy of the Weekly Times and immerse yourself in the stories behind the headlines and the reality of farming today. When the Coles 2019 Farmer of The Year Award launches in October, follow the nominees across beef, cropping, dairy, horticulture, sheep and innovation (winners announced February 2020).
Producers are closer than you think
No matter how small your pub, cafe or catering business, you can still do the right thing. At Tom McHugo's Hobart Hotel the blackboard menu of schnitzels, roasts and burgers names all the local producers, while a second blackboard lists local winemakers and brewers.
The Argyle Inn in Taralga, NSW is owned and run by the producers themselves – beef cattle farmer Keith Kerridge and Holmbrae Chicken's Hugh Wennerborn. Don't wait for your own community to come to you, you're standing in it.
Pay them. On time. No excuses.
If nothing else, grab a farmer by the hand, shake it very hard and say thank you, for their courage and perseverance – and for the food in your kitchen. They're not looking for sympathy or donations but, just like the rest of us, they need to know that someone cares.
This article was first published in foodservice's May 2019 issue. Read the digital magazine here.