INSIDER: Six things you 
should know about the restaurant game if you don't already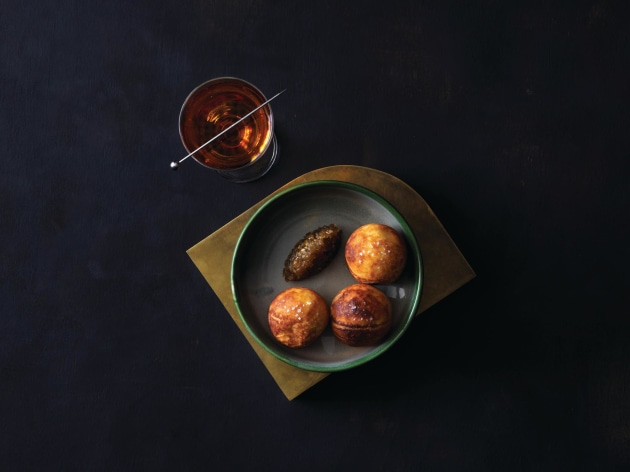 The world of food shifts and changes as trends and innovations ebb and flow. At this moment in time, it's all about wines on tap, fish butchers, smoked brisket doughnuts, sea urchins, good old lemon squash – and eyeballs. Jill Dupleix tracks the trends, so you don't have to.
1. Sea urchins
They're everywhere. The newly consistent line of supply is due to greater knowledge of breeding, harvesting methods and the need for culling large populations – and because more Australians have suddenly realised how damn delicious the rich, creamy tongues (technically, gonads) are when taken fresh from their spiky bauble of a shell and laid on hot buttered toast. It's our very own foie-gras-of-the-sea.
2. Last-gen mixers
If you grew up having a lemon squash at the pub with your dad, there's a good chance your diners did, too. That's why Melbourne's James Bruce and Stafford Love have turned nostalgia into now with their StrangeLove organic mixers, which the cheeky chaps call "the closest thing you'll get to homemade soft drinks without having to talk to old people". As well as lemon squash, they've brought back classic cola, ginger beer, and even bitter lemon, before reverting to millennial form with blood orange and chilli soda and smoked cola.
3. Savoury doughnuts
They just keep getting better – like the batter-based, smoked brisket doughnuts at rooftop bar, Smoke, at Barangaroo House in Sydney, and the choux-puffs with sour cream and salmon roe in the front bar at Cutler & Co in Melbourne. Sea urchin doughnuts are only a matter of time.
4. Fish butchery
Instead of opening a high-volume fish-and-chippy next door as any sensible chef would have done, Josh Nyland of Paddington's Saint Peter has built a boutique for his immaculately dry-filleted, fresh, smoked, cured or dry-aged fish and their accessories – liver, roe, milt, bones, and skin. Expect Fish Butchery to influence seafood retailers the way Anthony Puharich's pioneering Victor Churchill did butcher shops when it opened in 2009.
5. Wines on tap
In a clever bid to reduce packaging, energy and transport costs, more and more premium wines are being sold on tap. Sydney's Chin Chin has five, sourced from Brokenwood, Jim Barry and Yabby Lake; while Prahran's Ladro Tap has 18 taps covering beer, wine and softies, served straight from 30-litre kegs into glass or carafe. They even have a 'Tap-py Hour'. Also check out TapWines' cute little Prosecco van, for on-site, on-tap Italian bubbles across Victoria. Best to go with the flow, I reckon.
6. Eyeballs
Yep, they've been sighted floating in cocktails down MONA way in Hobart, created by Void Bar mixologist Adam Turner. For the Feral Boar's eye black margarita, the frozen eyeball of a feral pig is floated in a black stemmed, eye-shaped, pottery goblet designed by Kirsha Kaechele. It's going to star in Kaechele's forthcoming book on invasive species, Eat The Problem – something to keep an eye out for.
Jill Dupleix is a food writer, editor, cookbook author, restaurant critic and co-Director of Australia's Top Restaurants.