Huck's Rant: A Real Howler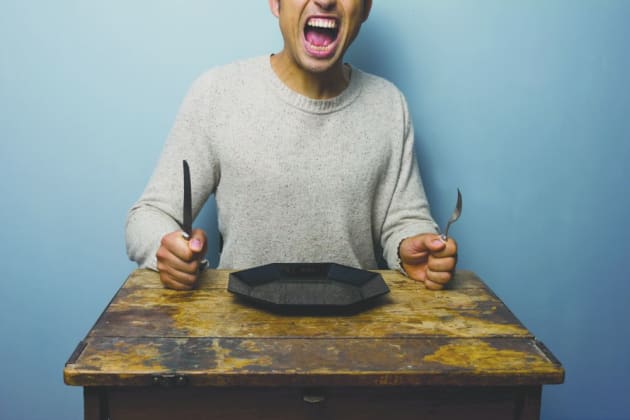 Diners are increasingly choosing to eat out by themselves. As a gastronome known to enjoy some alone time, Anthony Huckstep takes a look at what restaurants get right and what they don't when dealing with this particular breed of customer.
I've always been somewhat of a lone wolf. A natural preference to throw caution to the wind and ride solo, but of course we all go through change.
Yep this old silver fox doesn't howl at the moon as much as he once did. With two hilarious hounds and impending nuptials with a human far too good for this slovenly beast, this former lone wolf has become more of a pack leader (though in truth I probably rank fourth in our house).
But I've always been, and will always be, quite fond of dining alone.
I'm not talking about sitting in my undies on the lounge smearing home-delivered Mongolian lamb on my chest. Um, yeah. I'm talking about dining out of home - solo.
It's quite a strange concept for some to comprehend. I love dining alone. It's certainly a preference over eating with an idiot. I have a friend that can't do anything alone. He just can't stand his own company. Come to think of it, he is quite annoying.
A colleague once told me when travelling he wouldn't dare embarrass himself by dining in a restaurant by alone. He always gets room service.
I don't know about you but I save those culinary adventures for 4 am when there's every chance I won't remember them.
It's a topic I've ranted about previously because not only do I love the quiet moments to reflect on the food, on life, to pause and breathe, I feel that some restaurants don't quite know how to deal with lone diners.
Recently I tried to make a booking for one at a high-end restaurant but was informed there were no availabilities.
I don't mind missing out because it's great to hear when restaurants are busy.
A little perplexed and not 100 per cent convinced I tried again, but this time a booking for two.
To my surprise the options were so plentiful, I felt like I must have clearly made an error. Nope. No error.
I've decided to give them the benefit of the doubt but it was, in fact, my intention to review the restaurant. I rarely review alone. More meals give you a better understanding of a restaurant's promise, but life throws different challenges at you at times.
It's a little hard to review a place if you can't even get your foot in the door.
If a restaurant is full, then fair enough, but wanting to hold the table for the chance of more guests, and the chance to get a better average spend out of a table, then it's not a restaurant I want to ever dine at.
They've missed the point of hospitality and how restaurants survive and prosper.
I understand slim margins. I understand a need to fill every seat. But ignore lone diners at your peril. Make their night and you'll have a customer for life. Sepia has had a regular lone diner who has eaten weekly since it opened in 2009.
A lone diner will drop above the average spend and heaven forbid they might even bring friends in for dinner on their next visit.
Or you could reject the one for the off chance two to four people make a booking, but you won't get diddly-squat if they don't.
Whether to keep the wolf from your door is your call, but ask any successful operator and they'll tell you many a yarn about how to please, and the importance of, lone diners. Their money is the same colour as everyone else's.
Anthony Huckstep is the national restaurant critic for delicious. and a food writer for The Australian, GQ Australia and QANTAS.