Burger kings: Dishing out on casual dining
A tasty burger is the sum of its parts. A fresh bun, high quality produce, flavourful sauces and a healthy sprinkling of seasoning.
Ben Avramides agrees. "It's in the quality of the meat, grilled really well on the outside but still pink in the middle. A soft bun is also important, but a really good burger is about the condiment and pickle distribution - a balance of sauce, mustard and crunchy gherkins is essential."
The managing director of catering company, Tommy Collins by Atlantic Group, recently launched Midtown, the official pop-up restaurant to Marvel's Avengers STATION exhibition in Melbourne.
"We've built a gritty New York diner," he says, "but what was really important to us was to deliver quality food in a cool space that wouldn't fall into the trap of gimmick or a 'themed' venue. Our philosophy is to do the simple things well."
This is not dissimilar to Harry Nguyen's approach. The owner and chef of Sydney's Monte Alto Eatery & Bar is aware that "a good burger is the cohesiveness between the amount of bun, meat, sauces and topping."
But more than that, he is "committed to delivering a unique experience for all guests. We twist the classics and create new culinary dishes that excite our taste buds."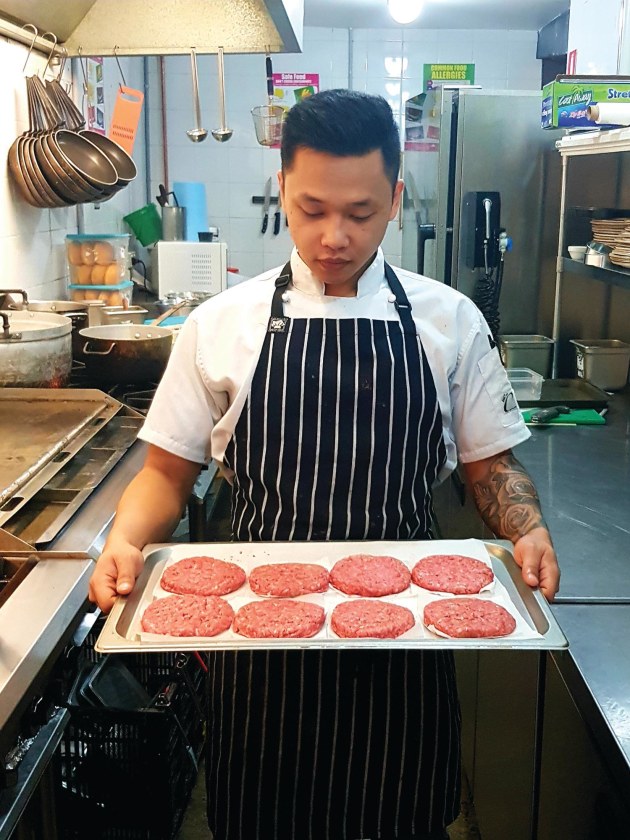 ON THE MENU
As an all-in-one cafe, restaurant and bar, Monte Alto Eatery & Bar features five, gourmet burgers on the menu, all served on a toasted milk bun. They include the soft shell crab with Asian slaw, tomatoes, carrot pickle and Thai tamarind sauce, and the halloumi with mixed leaves, tomatoes, carrot pickle and pesto aioli.
"(However) the wagyu and double-smoked bacon burger is a sure-fire winner," says Nguyen, and has been one of the most popular dishes since opening.
For Avramides, the Midtown stand-out is "'The Gauntlet' because everything in it is doubled up from the 'All American' cheeseburger. The grilled chicken and cheese is also amazing, particularly if you add fresh chilli."
There is another burger in the works, which has not been named yet. Avramides says, "Chef Tommy McIntosh is developing a double-beef patty pinched together and filled with cheese, then crumbed and fried for crunchy, oozy goodness. And he's not shy on the condiment and pickle allocation either."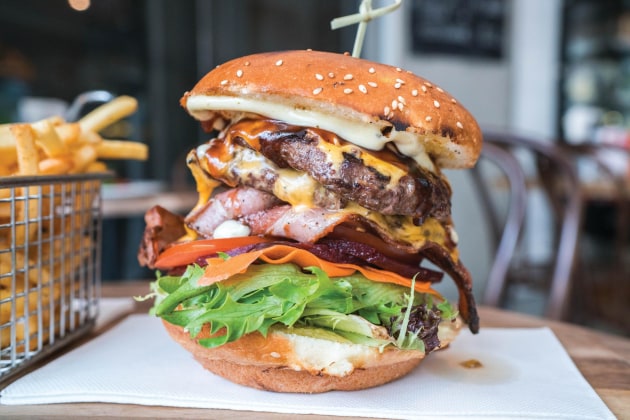 THE GOOD BURGER
The influence of American-style burgers on the Australian market is unmistakable. There are many reasons for this; Nguyen believes the main instigator for this is social media and the influence it has on what consumers want to eat and where.
"We are at the stage of eating with our eyes first," he says, "the Aussie burger with the lot doesn't look as appealing as the 'cheese-porn', American burger. But I strongly believe that once the hype is over, the classic Aussie burger will definitely be making a comeback."
Avramides is of a different opinion. He considers that when it comes to fast food, Americans have having had more time perfecting the little things, while Australians as a whole focus more on ingredients and provenance. As such, he says, "Putting the American 'way' to our produce is a great match."
He sees the Aussie burger as having been surpassed by exciting, new options. He sees this reflected in the fact that "food providers are specialising and burger joints are enjoying the flavour combination of other favourites like mac'n'cheese and hash browns."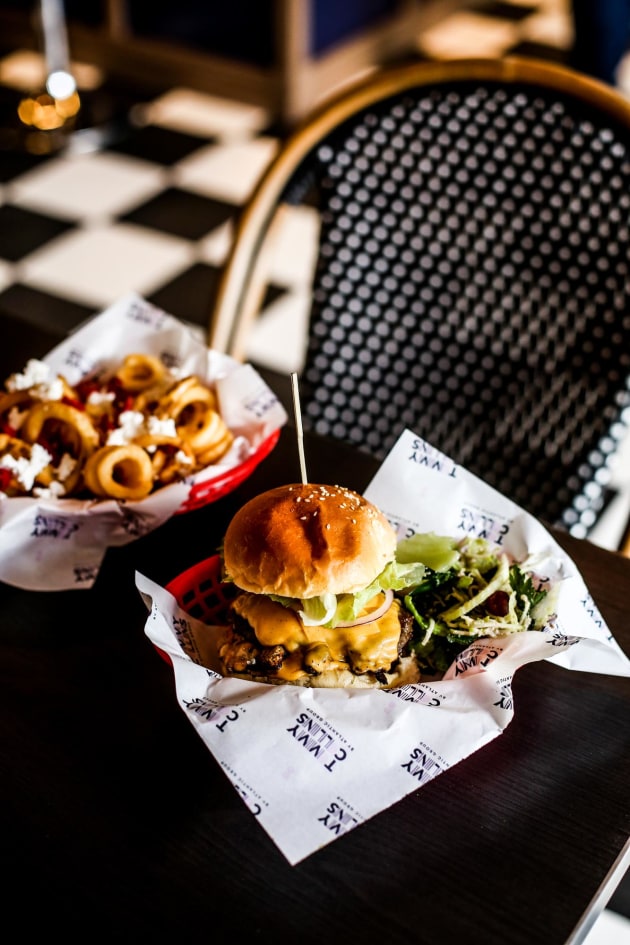 THAT'S A WRAP
There are so many fads when it comes to burgers that it can be difficult predicting what is to come next. There really is no limit as long as it resonates with diners. This has lead to many frankenburgers on the market, over flowing with ingredients.
For Avramides, the only rule that burger trends abide by nowadays is to be "more and more Insta-worthy, for better or worse."
Conversely, Nguyen considers simple to be better. He says, "At the end of the day, burgers are a classic dish which many Australians have and will continue to enjoy. There is a gap in the market right now for a simple, delicious burger which lands under a $15 price point, one that diners can indulge in without feeling sick from consuming too much meat or cheeses."
Nonetheless, the one thing that Avramides and Nguyen both agree on is that beef burgers should be served medium-rare.
"It must be well grilled on the outside," says Avramides. "The perfect burger has a patty that retains flavour and juiciness without sacrificing safety. Plus there is nothing worse than a soft and mushy patty."